The energy industry is well-known for housing exceptional dividend stocks.
However, when we think of dividend energy stocks, the heavyweights – Exxon Mobil (XOM), Chevron (CVX), Royal Dutch Shell (RDS-B) – tend to come to mind. We generally do not immediately think of smaller, regional energy players.
Smaller energy companies can be a surprisingly good source of dividend income. Inter Pipeline (IPPLF) (IPL.TO) is one example of this.
On the surface, there's a lot to like about Inter Pipeline. The company has increased its dividend for 14 consecutive years. This shows that Inter Pipeline is clearly committed to long-term dividend growth.
Along with its strong dividend history, the company has a high dividend yield of 6.4%. And, Inter Pipeline pays its dividend monthly, making it ideal for retirees or other investors who need to budget their dividend payments.
Inter Pipeline's strong dividend history, very high dividend yield, and monthly dividend payments are three reasons why the company appeals to dividend growth investors.
This article will analyze the investment prospects of Inter Pipeline in detail.
Business Overview
Inter Pipeline is an energy infrastructure corporation that is engaged in the transportation, storage, and processing of energy products in Western Canada and Europe. Inter Pipeline trades on the Toronto Stock Exchange under the ticker IPL.
Inter Pipeline is headquartered in Calgary, Alberta, Canada and has a market capitalization of CAD$9.4 billion. The company is divided into four distinct segments for reporting purposes:
Oil Sands Transportation (49% of EBITDA)
NGL Processing (26% of EBITDA)
Conventional Oil Pipelines (17% of EBITDA)
Bulk Liquid Storage (8% of EBITDA)
More details about each of Inter Pipeline's operating segments can be seen below.
(Click on image to enlarge)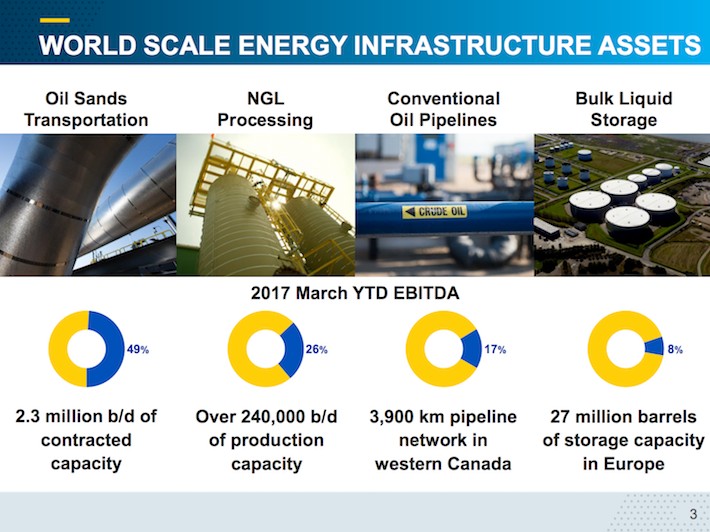 As mentioned, Inter Pipeline operates in two geographies: Western Canada and Europe.
In Canada, Inter Pipeline owns assets in two provinces: Alberta and western Saskatchewan.
In Europe, Inter Pipeline's operations can be found in Ireland, England, Germany, Denmark, and Sweden.
A map showing the geographic distribution of Inter Pipeline's operations can be seen below.
(Click on image to enlarge)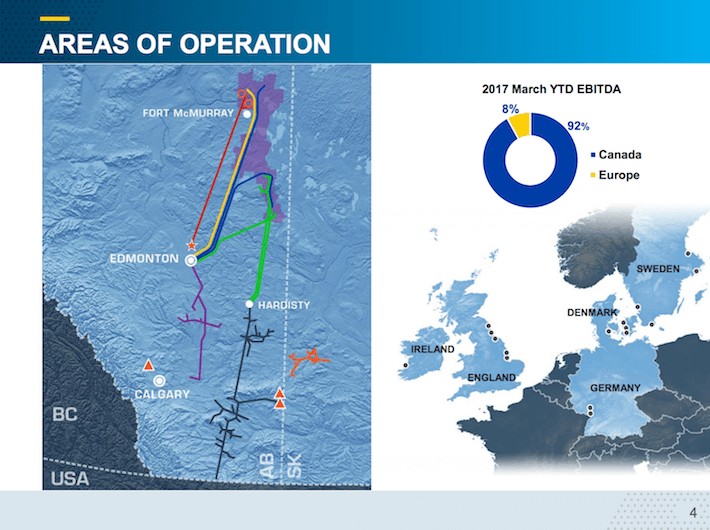 The vast majority (92% of EBITDA) of Inter Pipeline's business lies in its home country of Canada.
Growth Prospects
Inter Pipeline's growth strategy is quite simple: issue new shares and use the proceeds to acquire high-quality energy infrastructure assets that generate revenue through long-term, risk-insulated contract agreements.
There are certainly benefits to this strategy.
By being a chronic issuer of shares, Inter Pipeline has a readily-accessible pool of capital that it can leverage to acquire additional assets.
However, Inter Pipeline's growth strategy also has downsides.
Namely, the company's share count has nearly doubled over the past decade.
(Click on image to enlarge)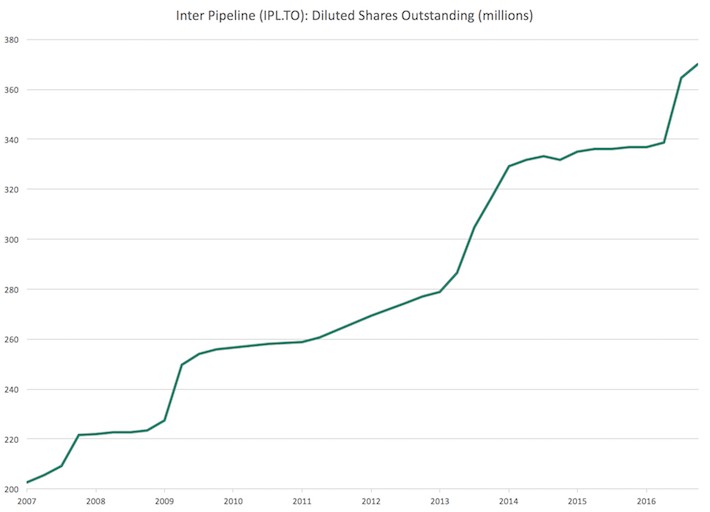 Normally...
More