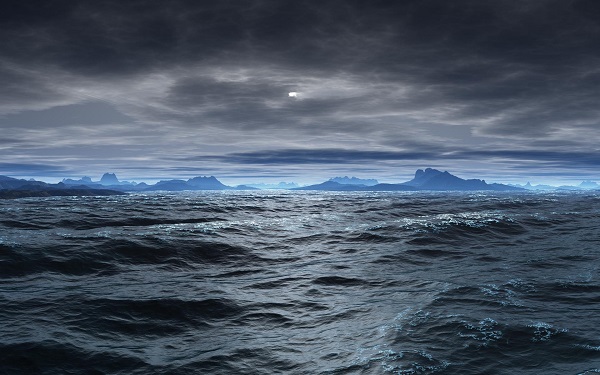 Ebbs and flows, ebbs and flows..
Volatility is something you want to accept as a way of life if you're going to be a serious investor. Of course, there's nothing wrong with being a non-serious investor I suppose, but if you're not willing to take a bit of time to examine your holdings every now and then, you'd probably do better by owning an index fund like the Spider S&P 500 ETF (SPY).  
But I digress, I was talking about volatility. Fluctuations in prices are the thing that every long-term investor should be looking towards and embracing. The rule is "Buy low, sell high", right? That means the price has to drop from time to time in order for you to be able to "Buy low". My personal preferrence is to collect companies without the intention to ever sell them, but I understand that not everyone's personal financial goals support that. 
And then some of you are here just looking through these posts trying to find ways to turn a fast profit. I should warn you up front, there is no reliable way to know if any of the falling knives I'm about to mention are about to swing back. It's just that the prices are in a zone where they represent a good value to the long-term intrinsic worth of each business. That said, I find that turnarounds happen frequently when buying on dips, and have had more than a few opportunities to cash out a fast profit. At the very least, the odds are in your favor that the price will find support. 
So, moving on, stuff to buy:
The Baltic Dry Index has slipped back a few points, and recent news came out that Navios Holdings (NM) might be losing the contract to their Vale port, to the tune of $20 million annually in revenues. The situation is developing, but as this comes on the back of an annual report where the company is already struggling, and a downgrade from Moody's (MCO) on their bonds, the situation looks dire. Well, it would if you weren't focused on the longer term, and the resources that the company has available through it's subsidiary holdings. There has been a nasty selloff in NM as a result.
My take is that the company will be just fine, and you should load up on shares from all 4 parts of the business, including Navios Maritime Partners (NMM), Navios Acquisition (NNA), and Navios Midstream (NAP). I did a more thorough writeup of the subsidiary businesses recently, you can read that here.
There seems to be some disagreement out there about when earnings are due to report for NMM. Some sites are saying as soon as tomorrow, some are reporting this Friday. I don't expect any big surprises out of them either way. 
In pharmaceuticals:
Abbot Laboratories (ABT) saw a decline of more than 11% over the last week. This is the former parent company of AbbVie (ABBV), the company I mentioned yesterday. They. spunoff the latter a couple years back. The stock caught some downgrades over the price they are paying to acquire St. Jude's Medical (STJ). Deals come and go, it's not always possible to say for sure if it will go through, but the discounted rate will let you buy Abbott for about 13x trailing earnings, and you get 2.67% yield for your patience. Abbott has seen dividend increases in the neighborhood of 8% annually for a while now.
Gilead Sciences (GILD) took a drop after seeing their first quarterly loss ever. Oh wait, it wasn't actually a loss, they just missed analyst consensus expectations. What can I say? Developing drugs is expensive, and right now, they are the market leader in Hep-C. The stock sells for 11x earnings. You should always buy the best names when they are cheap. Additionally, you earn a tidy 1.95% dividend yield buying here.
Tech:
Nintendo (NTDOY), (NTDOF) have taken a dive on the news that their upcoming console, the "NX" has been delayed until March next year, and won't be shown at E3. Buy on the rumor, sell on the news. Nintendo is dragging out the hype time in order to generate more excitement for the new console. I thought they were a great deal at $19, and they're an even better deal now at $17.
Oil:
Outside of these names, it's been kind of a slow week, and the market overall seems to be in a "show-me" state of mind. They are holding off on adding to oil positions. I see that Exxon-Mobile (XOM), Chevron (CVS), and Phillips 66 (PSX) are all basically standing still. Would be a good time to accumulate these names if you haven't yet. Don't expect any quick turnarounds though. Just nice dividend payments for a while. 
If you don't have a bond hedge in place, make sure you get that prepared before you go buying any of these names. This is the kind of situation where we start to be looking at a potential bear market on the horizon. Not saying for sure that it will happen, but it doesn't hurt to be prepared. The economy overall isn't moving very much, and we could be seeing a good amount of very little happening for some time. I don't think that means a recession, just nothing that's going to get the markets excited. 
Make sure to follow me if you haven't yet.
I'm going to start doing more with REITs shortly, I'll be looking to find you some high yielders that have better than average risk profiles. They're out there, and if interest rates aren't going to take us out soon, might as well take advantage of the calm before the storm.