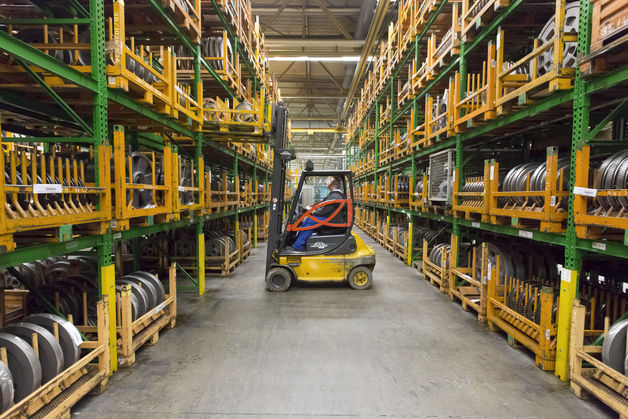 Photographer: Martin Leissl/Bloomberg
An employee maneuvers a pallet at the Heidelberger Druckmaschinen factory in Wiesloch, Germany.
German industrial production fell more than economists forecast in August in the latest sign that the outlook for Europe's largest economy is deteriorating.
Production, adjusted for seasonal swings, dropped 4 percent from July, when it expanded 1.6 percent, the Economy Ministry in Berlin said today. That's the biggest decline since January 2009 and compares with a median estimate of 1.5 percent in a Bloomberg News survey.
Germany's economy is losing steam as sluggish growth in the euro area, its largest export market, and political tension with Russia weigh on confidence. The European Central Bank has enacted unprecedented stimulus to sustain the regional recovery while calling on governments to press ahead with structural reforms.
"Should this weakness in manufacturing intensify, risks of spillovers to domestic demand would increase," said Evelyn Herrmann, European economist at BNP Paribas SA in London. "Long-lasting high levels of uncertainty could imply that investment decisions are not only postponed, but canceled."
The euro was little changed today and traded at $1.2656 at 9:19 a.m. Frankfurt time. The yield on German 10-year bonds was at 0.90 percent.
School Holidays
Output of investment goods slumped 8.8 percent in August and intermediate goods dropped 1.9 percent, today's report showed. Consumer-goods production fell 0.4 percent and construction slid 2 percent. Only energy output rose, climbing 0.3 percent.
While the volatility of the data was exacerbated by the timing of the German school holidays this year, it still adds to evidence that the economy is losing momentum after shrinking in the second quarter.
Factory orders plunged 5.7 percent in August, also the most since 2009, data showed yesterday. German manufacturing shrank in September, with new orders falling at the fastest pace since 2012, according to a survey of purchasing managers. Business confidence as measured by the Ifo research institute fell to the lowest in almost 1 1/2 years, while unemployment increased for a second month.
"The German economy will develop rather weakly in the second half of this year," said Ralph Solveen, head of economic research at Commerzbank AG in Frankfurt, who forecasts third-quarter gross domestic product will be little changed. "And in light of the weak trend in orders, we would not expect a great deal for the final quarter of this year."
Cutting Forecasts
MAN SE, Europe's third-largest truck manufacturer, said on Sept. 25 that operating profit, revenue and sales volume at the truck and bus division will be "significantly below" last year's level, reflecting weaker demand in markets including Europe and Russia.
"The industrial economy is going through a weak phase," the ministry said in a statement. "The third quarter as a whole is set for soft output."
The International Monetary Fund will cut its German growth forecasts for this year and next to about 1.5 percent from 1.9 percent and 1.7 percent, respectively, according to Spiegel magazine. The Washington-based lender will publish the data, together with updated projections for the euro area, later today.
The 18-nation currency region is still on track for a "modest economic expansion in the second half," even though risks remain on the downside, ECB President Mario Draghi said last week. The Governing Council kept interest rates unchanged at record lows and said it will start buying covered bonds and asset-backed securities to support the economy.