The US economy continues to show good signs when it comes to the manufacturing sector as the monthly ISM manufacturing index rose to 57.3 in November, beating estimates of a dip to 55.2 from October's 56.4.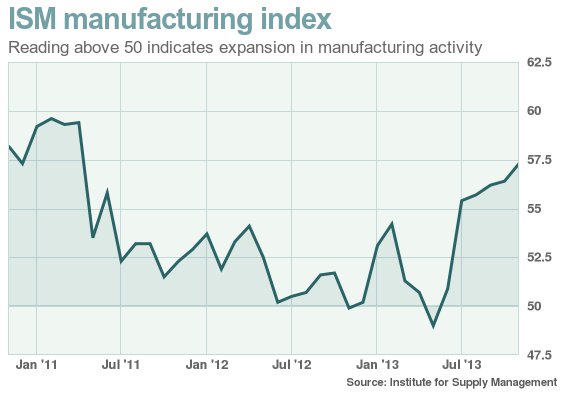 You may have to squint a lil to see the numbers on this graphic, but its a very nice time series of the internal sub gauges throughout the year.

The key here is that the rise was led by a 2 point increase in business production to 62.8,
a 3 point increase in new orders to 63.6,

and a 3.3 increase in employment to 56.6 which his the best reading all year and should bode well for the manufacturing sector when it comes to this week's NFP data.
The news means the economy may be ready for a taper from the Fed, though we should remember that manufacturing makes up a small part of the overall economy (around 15%) and so its the services PMI as well as the NFP report that will carry more weight when it comes to what the Fed may do.