Pfizer, Inc. PFE reported third-quarter 2017 adjusted earnings per share of 67 cents, which beat the Zacks Consensus Estimate of 65 cents by 3.1%. Earnings also rose 10% year over year driven by slightly higher sales and lower costs and share count.
The pharma heavyweight delivered revenues of $13.17 billion, which were in line with the Zacks Consensus Estimate. Revenues rose 1% from the year-ago quarter on a reported as well as operational basis.
Sales in Detail
Currency movement hurt Pfizer's third-quarter revenues slightly ($54 million) while the divestiture of Hospira infusion systems business hurt sales by 2% in the quarter. In February 2017, Pfizer divested its Hospira infusion systems (HIS)business to ICU Medical, Inc. ICUI. Excluding currency headwinds and HIS revenues, sales rose 4%.
Strong performance of newer products like Ibrance (breast cancer), Xtandi (prostate cancer) and Xeljanz (rheumatoid arthritis) offset lower sales of Enbrel, Viagra and the Prevnar/Prevenar 13 vaccines franchise and loss of exclusivity for some products.
International revenues rose 2% (up 3% an operational basis) to $6.63 billion. Meanwhile, U.S. revenues were flat at $6.53 billion.
Segment Discussion
Pfizer's reporting segments are Pfizer Innovative Health (IH) and Pfizer Essential Health (EH).
Pfizer IH sales grew 11% on a reported and operational basis from the year-ago period to $8.12 billion. Pfizer IH revenues were driven by persistently strong momentum of Ibrance and Eliquis globally and growth of Lyrica and Xeljanz primarily in the United States.
While Ibrance revenues rose 60% to $878 million in the quarter, Xeljanz rose 48% to $348 million. Lyrica sales rose 10% to $1.15 billion. Eliquis alliance revenues and direct sales rose 43% to $644 million.
Revenues from the blockbuster prostate cancer drug, Xtandi, added to Pfizer's portfolio following the September 2016 Medivation acquisition, also contributed to U.S. revenues. Xtandi recorded alliance revenues of $150 million in the quarter compared with $141 million in the second quarter.
This was partially offset by continued decline in revenues from Prevnar 13 in the United States and lower revenues of Enbrel and Viagra.
Enbrel revenues declined 13% to $613 million in key European markets due to biosimilar competition. Pfizer has exclusive rights to Amgen, Inc.'s AMGN blockbuster rheumatoid arthritis (RA) drug, Enbrel, outside the United States and Canada. Total Viagra (IH+EH) sales declined 20% to $308 million. Lower demand and wholesaler destocking ahead of the potential generic competition in December hurt sales of Viagra.
Global Prevnar 13/Prevenar 13 revenues declined 1% to $1.52 billion. Prevnar 13 revenues tanked 4% in the United States due to continued decline in revenues for the eligible adult patient population. However, Prevenar 13 revenues rose 5% in international markets due to favorable timing of government purchases in some emerging markets.
Consumer Healthcare revenues rose 4% to $829 million. Global Oncology revenues surged 46% to $1.62 billion driven by Ibrance. Global Vaccine revenues rose 1% to $1.65 billion. Internal Medicine rose 9% to $2.46 billion. The Inflammation & Immunology franchise rose 4% to $1 billion. Additionally, the portfolio of Rare Disease declined 3% to $569 million.
Earlier this month, Pfizer said that it is exploring strategic alternatives for its Consumer Healthcare segment including a partial or a full separation through a spin-off, sale or other transaction. A decision is expected next year.
Pfizer EH segment sales recorded a decline of 12% (down 11% operationally) to $5.05 billion. Excluding HIS revenues, EH sales declined 7%.
EH revenues were hurt by the loss of exclusivity and associated generic competition for products primarily Pristiq in the United States and Vfend and Lyrica in Europe, lower revenues from legacy Hospira products due to product shortages and divesture of HIS. However, in the EH business, biosimilars and emerging markets did well in the quarter.
Pfizer launched Inflectra, a biosimilar version of Johnson & Johnson JNJ and Merck's blockbuster RA drug Remicade, in November last year. While Inflectra recorded sales of $34 million in the United States and $112 million globally, all other biosimilars brought in sales of $28 million (down 16%) from outside the U.S. markets. Emerging markets revenues grew 7% operationally.
Adjusted selling, informational and administrative (SI&A) expenses declined 1% (operationally) in the quarter to $3.48 billion. Adjusted R&D expenses also declined 1% to $1.85 billion.
2017 Guidance Updated
While Pfizer raised its adjusted earnings guidance, it tightened the revenue expectations for the year. Revenues are expected in the range of $52.4 billion to $53.1 billion compared with $52 billion to $54 billion expected previously. The Zacks Consensus Estimate is pegged at $52.65 billion.
Adjusted earnings per share are expected in the range of $2.58 - $2.62 compared with $2.54 - $2.60 expected previously. The Zacks Consensus Estimate is pegged at $2.56 per share.
At the mid-point, adjusted EPS is expected to increase 8% (previously 7%).
Research and development expenses are expected in the range of $7.5–$7.8 billion (previously $7.5–$8.0 billion), while SI&A spending is projected in the range of $14.0–$14.5 billion (previously $13.7–$14.7 billion).
Our Take
Pfizer's third-quarter results were mixed as it beat earnings estimates but delivered in-line sales. However, the company raised its adjusted earnings guidance for the year. Shares were down 0.5% in pre-market trading. So far this year, Pfizer's shares are up 8.2%, comparing unfavorably with an increase of 14.6% for the industry.

Pfizer continues to face headwinds in the form of genericization of key drugs, lost alliance revenues, pricing pressure and rising competition, which are hurting the top line. Nonetheless, we believe that new products like Ibrance, contribution from acquisitions, cost-cutting efforts and share buybacks should help the company achieve its guidance.
Pfizer also boasts a strong pipeline and expects a "multiyear wave of potential new product launches and product line extensions." Bavencio is being considered a key long-term growth driver for Pfizer.
Bavencio/avelumab received FDA approval for metastatic Merkel cell carcinoma (MCC) in March this year and for advanced bladder cancer in May. Bavencio was also approved in EU and Japan in September for MCC.
Two other leukemia treatments — Besponsa/inotuzumab ozogamicin for relapsed/refractory acute lymphoblastic leukemia (ALL) and Mylotarg for newly diagnosed CD33-positive acute myeloid leukemia (AML) — were also approvedby the FDA in the third quarter. Besponsa was also approved in the EU in June.
Pfizer carries a Zacks Rank #3 (Hold). You can see the complete list of today's Zacks #1 Rank (Strong Buy) stocks here.
Pfizer, Inc. Price, Consensus and EPS Surprise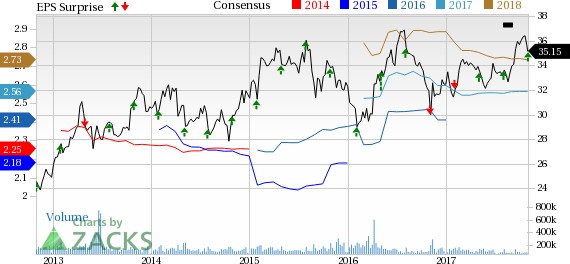 Pfizer, Inc. Price, Consensus and EPS Surprise | Pfizer, Inc. Quote
Wall Street's Next Amazon
Zacks EVP Kevin Matras believes this familiar stock has only just begun its climb to become one of the greatest investments of all time. It's a once-in-a-generation opportunity to invest in pure genius.
Want the latest recommendations from Zacks Investment Research? Today, you can download 7 Best Stocks for the Next 30 Days.
Click to get this free report
Pfizer, Inc. (PFE): Free Stock Analysis Report
Johnson & Johnson (JNJ): Free Stock Analysis Report
ICU Medical, Inc. (ICUI): Free Stock Analysis Report
Amgen Inc. (AMGN): Free Stock Analysis Report
To read this article on Zacks.com click here.
Zacks Investment Research