Energy executives have enjoyed incredible market conditions for most of the past decade. High oil prices drove drilling, shale discoveries exploded, and renewable energy finally found the footing it was looking for. But a decline in energy markets over the past year has exposed the warts some companies were hiding. Here are our picks for the worst company leaders in the energy sector this year.
Travis Hoium
If you want to see how not to run a renewable energy company, look no further than Ahmad Chatila, CEO of SunEdison (NYSE:SUNE). He went on an acquisition spree over the last three years, adding billions of dollars of debt to SunEdison's balance sheet, on the theory that he would be able to drop renewable energy projects down to two yieldcos indefinitely.
The model counted on debt and equity markets having an insatiable appetite for renewable energy at low rates of return, which for a while the market bought into wholeheartedly. But when you're a leveraged company counting on capital markets to be open, it can leave you with nowhere to turn when they shut you out. That's exactly what happened starting in the summer, and the decline was fast and furious.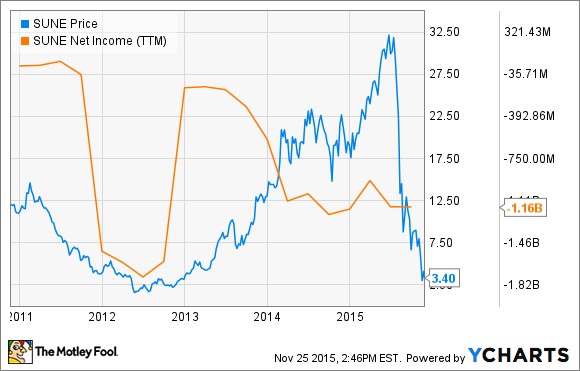 To make matters worse, SunEdison is losing money like crazy, so there wasn't a solid business to fall back on when financial markets turned against the company. The massive bet Chatila made on the future of renewable energy backfired quickly, and the pain might not be over yet.
SunEdison's turnaround plan involves selling renewable energy projects to third parties, which probably won't create enough profit to service $11.7 billion in debt on the balance sheet. Chatila now has his hands full just keeping SunEdison alive, a far cry from a company that was once supposed to be the largest renewable energy company in the world.
Matt DiLallo
While there are quite a few candidates to choose from, I really had high hopes for Chesapeake Energy (NYSE:CHK) CEO Doug Lawler after he took over for ousted founder Aubrey McClendon in 2013. He was expected to bring financial discipline to a company that had a history of wild spending. He promised disciplined capital spending, which was expected to "drive [the company] toward top-quartile operational, financial and shareholder return...
More