Qualcomm Inc. (QCOM) just released its third-quarter fiscal 2017 financial results, posting earnings of $0.70 per share and revenues of $5.4 billion. Currently, QCOM is a Zacks Rank #4 (Sell) and is down 2.61% to $55.30 per share in trading shortly after its earnings report was released.
Qualcomm:
Beat earnings estimates. The company posted earnings of $0.70 (excluding twelve cents for non-recurring items), beating the Zacks Consensus Estimate of $0.67.
Beat revenue estimates. The company saw total revenues of $5.4 billion, beating our consensus estimate of $5.22 billion, but decreasing by 11% year-over-year.
During the third quarter of fiscal 2017, Qualcomm returned $1.1 billion to stockholders, including $844 million, or $0.57 per share, of cash dividends paid and $300 million through repurchases of 5.2 million shares of common stock. On July 13, 2017, Qualcomm announced a cash dividend of $0.57 per share payable on September 20, 2017 to stockholders of record as of the close of business on August 30, 2017.
"We delivered better than expected results in our semiconductor business this quarter, which drove EPS above the midpoint of our expectations versus our April updated guidance. Our products and technologies continue to enable the global smartphone industry, and we are expanding into many exciting new product categories, including automotive, mobile computing, networking and IoT," said Steven Mollenkopf, CEO of Qualcomm Incorporated.
Mollenkopf continued to address his company's legal battle with Apple (AAPL): "We believe that we hold the high ground with regard to the dispute with Apple, and we have initiated new actions to protect the well-established value of our technologies."
Additionally, Qualcomm said it expects to earn between $5.4 billion and $6.2 billion in revenue during the upcoming quarter, and the company guided for non-GAAP diluted EPS to fall between $0.75 and $0.85.
Take a look at this chart for a peek at Qualcomm's earnings history:
QUALCOMM Incorporated Price, Consensus and EPS Surprise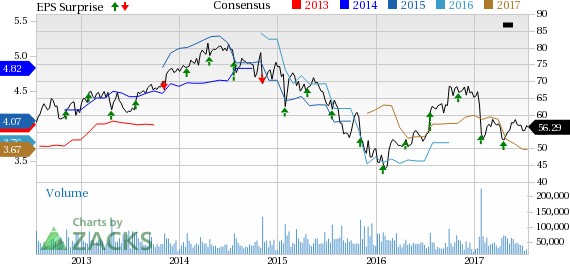 QUALCOMM Incorporated Price, Consensus and EPS Surprise | QUALCOMM Incorporated Quote
QUALCOMM Inc. develops and delivers innovative digital wireless communications products and services based on the company's CDMA digital technology.
Check back later for our full analysis on QCOM's earnings report!
Looking for Stocks with Skyrocketing Upside?
Zacks has just released a Special Report on the booming investment opportunities of legal marijuana.
Ignited by new referendums and legislation, this industry is expected to blast from an already robust $6.7 billion to $20.2 billion in 2021. Early investors stand to make a killing, but you have to be ready to act and know just where to look. See the pot trades we're targeting>>
Want the latest recommendations from Zacks Investment Research? Today, you can download 7 Best Stocks for the Next 30 Days.
Click to get this free report
QUALCOMM Incorporated (QCOM): Free Stock Analysis Report
To read this article on Zacks.com click here.
Zacks Investment Research