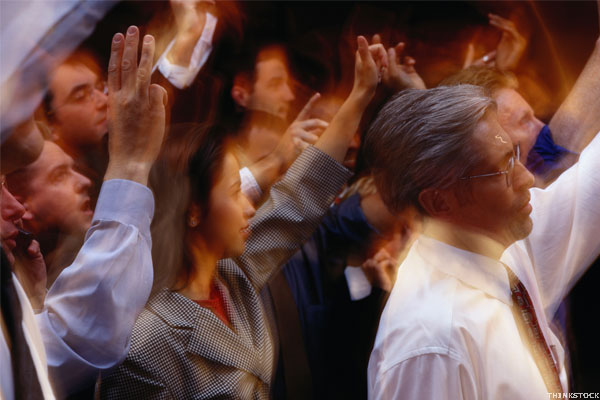 Jim Cramer shares his views every day on RealMoney. Click here for a real-time look at his insights and musings.
Cramer: Takeover Talk Drowns Out Earnings Report
Posted at 4:01 p.m. EDT on Friday, Oct. 21, 2016

Takeovers just change the equation. They scare shorts, and shorts are integral to putting out supply that often tends to stop stocks in their tracks.
Take this Time Warner (TWX) deal. If you are short Netflix (NFLX) or Viacom (VIAB) , the first because you think it has too big a run and the second because the fundamentals are awful, you fear any Time Warner deal on Monday. You feel you should cover because both are going to be rumored instantly if there is a deal. Who can stay short in that environment?
Likewise, if we get more consolidation in the semis, meaning if Qualcomm (QCOM) , buys Action Alerts PLUS holding NXP Semiconductor (NXPI) for the rumored $110 price, then do you want to be short Skyworks (SWKS) or Qorvo (QRVO) or Micron (MU) ? I don't think so.
Normally, we would be focused just on earnings, but these takeovers hijack the narrative. But these days it's too hard to just focus on earnings given that these companies are huge and make it so other than the hundred-billion-dollar club you have to expect that anything can happen.
I find it ironic given that the Feds just blocked Lam Research (LRCX) and KLA-Tencor (KLAC) , are giving Action Alerts PLUS holding Walgreens (WBA) and Rite Aid (RAD) a real hard time and don't seem inclined to let DuPont (DD) and Dow Chemical (DOW) , which is a holding in Cramer's Action Alerts PLUS, merge so easily.
No matter, the prospective deals are in control and there are lots of tales to spin that make a ton of sense even when the fundamentals may be weaker than expected.
Cramer: Lam Research and Skyworks Are Priced Too Conservatively
Posted at 6:17 a.m. EDT on Friday, Oct. 21, 2016

The idea of a peak in the semiconductor cycle--cellphone, semi equipment, whatever--flies in the face of every quarter I am hearing, yet it remains a dominant theme among the mutual and hedge fund managers I listen to.
When they aren't being out-and-out bearish, most of the managers that come on television or talk about the market can't find a cycle that they like. But they can easily find ones they don't: namely anything having to do with cellphones and cellphone chips, because of problems with Samsung and because Action Alerts PLUS charity portfolio Apple (AAPL) is already tapped out and because there's nothing new under the sun.
But there I was Thursday, talking with Martin Anstice, the CEO of Lam Research (LRCX) and Liam Griffin, the CEO of Skyworks (SWKS) , and I simply have to wonder what the heck they are talking about.
First of all, cellphones are now part of a vast ecosystem that devours all sorts of chips to do everything. A cellphone that runs in conjunction with the connected home and the connected car is not some hardware device. It is a complicated machine that does all sorts of thinking and learning for you and is packed with chips.
It's the same thing as a car. That's not going to be a piece of hardware, it is still one more delicate piece of machinery that is loaded with chips, typically chips that are made by the same companies as those in a cellphone.
Everyone seems to want to pigeonhole Skyworks into a chipmaker for cellphones, and I am not going to say that it isn't. Apple and Samsung matter tremendously to it. But Skyworks is only one acquisition away from being Broadcom (AVGO) , and it's got plenty of cash to be it. In the meantime, its expansion into autos and healthcare is happening pretty quickly. Oh, and it isn't so bad to be the largest semi content in Apple, when Apple can't make enough phones.
What can I say? I thought the KLA-Tencor (KLAC) -Lam deal was exactly what was needed, given all the consolidation in the semi business. Its customers were consolidating, so it would have helped to have it be able to merge with KLA. Sure, maybe the customer said one thing to Justice and another thing to Martin, but even...
More