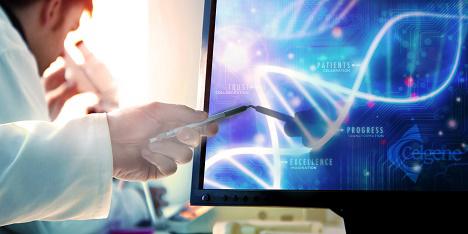 In case you haven't noticed, biotech stocks are finally on a roll again. After months of sliding downward, many are now mounting comebacks. While not every biotech stock is a winner, there are plenty of great picks. Here are three that I'd be happy to buy right now.
1.Celgene
There's not much to dislike about Celgene (NASDAQ:CELG). It's one of the biggest biotechs on the planet. Revenue and earnings have soared over the last several years. And Celgene's current lineup and pipeline should keep the good times going.
The company's top moneymaker, blood cancer drug Revlimid, continues to impress. Revlimid generated sales of $5.8 billion in 2015 -- 16% higher than the prior year. Celgene expects the drug to bring in between $6.6 billion and $6.7 billion in 2016.
Celgene's positives don't stop with Revlimid. Two other drugs, Abraxane and Pomalyst/Imnovid, nearly hit the $1 billion sales mark in 2015. Both drugs should experience strong growth this year. Plaque psoriasis treatment Otezla racked up sales of nearly $472 million in its first full year on the market and could eventually reach $2 billion in annual sales.
What about Celgene's pipeline? It's solid as a rock. The biotech expects to report data from 18 different late-stage studies by mid-2018. Results from four of those studies should come in 2016, including a couple for Revlimid, one for Abraxane, and another for Otezla.
Celgene projects that earnings for 2016 will grow 19% year-over-year. Wall Street thinks that outlook might even be a little pessimistic. As an added plus, Celgene also has $6.5 billion in cash, cash equivalents, and marketable securities. Expect the big biotech to use that money in ways that benefit shareholders, including more share buybacks and smart investments in new drugs.
2.Juno Therapeutics
Speaking of Celgene's smart...
More