Perhaps after intervening every single day in the past week (remember that FT piece saying the PBOC would no longer directly buy stocks... good times) in either the stock or the FX (both on and offshore) market, China needed a day off; perhaps even the algos got tired of constantly spoofing the E-mini and inciting momentum ignition, but for whatever reason the overnight session has been oddly uneventful, with no ES halts so far, few USDJPY surges (then again those come just before the US open), and even less violent CNY or CNH moves, leading to virtually unchanged markets in Japan (small red) and China (small green). And while the initial tone in Europe has been modestly "risk off", it is nothing in comparison to the massive gyrations that have become a stape in the past few weeks.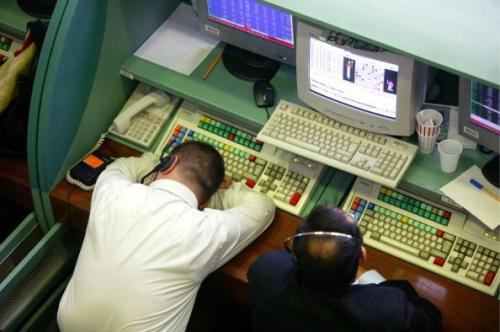 Asian equity markets traded mixed with price action relatively subdued amid light news flow and lack of key data with participants remaining tentative ahead of next week's FOMC meeting and Chinese industry data over the weekend. As such, the Nikkei 225 (-0.2%) and ASX 200 (-0.5%) traded with losses with little in the way of new macro newsflow. Elsewhere, Chinese markets traded mixed through most of the session before falling as European participants got to their desks with the Hang Seng (-0.3%) initially benefitting from strength in tech names in a continuation of the move seen in the US before closing in the red. JGBs traded mildly lower despite the mixed risk outlook in Asia, while the BoJ also entered the market to buy JPY 870 bn government bonds in the short end.
The BoK kept the 7-day repo rate unchanged at 1.50% as expected, with BoK Governor Lee adding that the current rate is at a level capable of supporting the South Korean economy. Moments ago, the Russian central bank joined the "unch" category when it left its key rate at 11.00%, as expected.
In Europe, participants kicked off the final European session of the week amid a bout of risk off sentiment, with equities (Euro Stoxx: -0.90%) falling into the red shortly after the open. Despite opening modestly in the green, equities have spent the majority of the session in the red, despite light macro news. On a sector specific basis, telecom names are the notable underperformers after Teliasonera (TLSN SS) (-1.2%) and Telenor (TEL NO) (-1.4%) announced a withdrawal from merger in Denmark, citing disagreements with the European Commission.
The IBEX 35 (-0.9%) continues to underperform after experiencing weakness throughout the early part of September as market participants react to the upcoming Catalan election, with the majority of pro-independence groupings joining forces and suggesting that if they get a majority of seats they will declare unilateral independence, even if they do not win the majority of votes. Perhaps as a result the SP/GE 10y bond yield spread is also wider amid the heightened risk off sentiment, while T-notes and Bunds both reside in positive territory, benefitting from weakness in equities .
The risk off sentiment has also filtered through to FX markets with EUR and JPY benefiting from a safe-haven bid and as such EUR/USD briefly broke above 1.1300 to the upside, with the USD/JPY trading down to the 120.50 level, which in turn has weighed on the USD, with the USD-index (-0.1%) residing in modest negative territory heading into the North American crossover. This however was promptly followed by a round of SNB intervention, which pushed the EURCHF to above 1.10, the highest level since the January 2015 de-pegging.
Of note FOMC related risks are beginning to be evident in FX options market, where the 1-w tenor is up nearly 400bps at its highest level since mid-July. Furthermore, commodity currencies have weakened alongside the softness in commodity complex, with the likes of CAD, RUB and NOK all seeing further weakness today.
In commodities, softness has been seen in both the metals and energy complex today, with the latter falling after a bearish note from Goldman Sachs on the sector (more shortly). As such, WTI and Brent crude futures have broken below the USD 45 and USD 48 levels respectively, which comes in the context of Saudi Arabia downplaying the need for an additional summit to discuss price stability in the energy market yesterday.
Of note for the metals complex gold is on course for its 3rd consecutive weekly decline as participant remain cautious heading into next week's highly awaited, key-risk FOMC meeting. While copper prices remain on track for its biggest weekly gain since May following recent announcement of output cuts by large industry names and Dalian iron ore futures are looking at the largest weekly gain in over a month.
IEA forecasts that oil supply outside of OPEC is to fall the most since 1992 and raises its 2015 and 2016 world oil demand estimate by 200kbpd. OPEC August supply down 220kbpd to 31.57m1n, linked to Saudi and Iraq production.  Earlier in the week, US E1A reduced their 2015 and 2016 world oil demand growth forecast by 90K bpd to 1.17mln bpd and 150K bpd to 1.31m1n bpd respectively.
To summarise: Europe's Stoxx 600 falls 0.8% as of 12:30pm CET, with a selloff in telecoms after Telenor, Teliasonera scrapped plans to merge business units in Denmark amid EU opposition. Brent falls again on glut; Goldman cuts forecasts. EUR/CHF rises above 1.10, eyes move to 1.1140 on technicals. V2X falls back, down 0.2% at 31.9, despite retreat in equities
Key events on the US calendat today's include US PPI (8:30am) and the preliminary reading of University of Michgan sentiment (10:00a,) as well as the monthly budget statement at 2pm which remains the only place to keep a track of just how big the total US debt burden is since the official number hasn't been updated in almost a year.
Market Wrap:
Telecom sector -1.9%, volumes 156% 30-day avg. vol. after TeliaSonera, Telenor Scrap Danish Merger Amid EU Opposition
Brent Futures down 2.1% at $47.89.1/bbl
LME 3m Copper down 1.1% at $5338/MT
Euro down 0.13% at $1.1266
S&P 500 futures down 0.3% at 1933.8
Indexes: FTSE 100 down -0.2%, CAC 40 down -0.7%, DAX down 0.8%, IBEX 35 down -0.9%, FTSE MIB down -0.3%, Euro Stoxx 50 down -0.7%
17 out of 19 Stoxx 600 sectors fall; only basic resources, energy sectors gain ground, up 1.5%, 0.3% respectively
Daimler Says Brazil Truck, Bus Mkt to fall 40%-50%
IEA Sees U.S. Shale Oil Output Falling on Price Slump
Oil at $20 Possible for Goldman as Forecasts Cut on Glut
Goldman raises view on oil sector to neutral, adds Total to conviction buy list
No consensus seen on Wall St on timing for Fed rate hike
Catalan National Day Signals Election Risks Ahead
Overnight Media Digest from Bloomberg and RanSquawk
Participants have kicked off the final European session of the week amid a bout of risk off sentiment, with equities falling into the red shortly after the open
The risk off sentiment has also filtered through to FX markets with EUR and JPY benefiting from a safe-haven bid and as such EUR/USD has now broken above 1.1300 to the upside and USD/JPY trades around the 120.50 level
Today's highlights include US PPI final demand and the preliminary reading of University of Michgan sentiment as well as comments from BoE's Forbes
Treasuries 5Y and longer rise, paring weekly gains, amid losses in stocks and oil; market focused on next week's Fed meeting and possibility of first rate hike since 2006.
As FOMC considers 1st rate increase since June 2006, yrs of central bank transparency have left many wondering if monetary policy's goalposts are shifting once again, and confused over what will move liftoff forward
Goldman cuts 2015 WTI forecast to $48.10/bbl from previous est. of $52/bbl, 2015 Brent forecast cut to $53.70/bbl from $58.20/bbl; potential for oil to fall to production costs of $20/bbl is becoming greater, bank said in a report
Aggregate financing in China rose to CNY1.08t ($169.5 billion) in August, from CNY718.8b in July, according to a PBOC report Thursday that matched the estimate for CNY1t in a survey of economists
EU governments are likely to agree in principle to shelter 160,000 refugees from crisis zones in the Middle East and Africa, an EU official said
Sovereign 10Y bond yields mostly lower. Asian and European stocks fall, U.S. equity- index futures decline. Crude oil, gold and copper lower
US Event Calendar
8:30am: PPI Final Demand m/m, Aug., est. -0.1% (prior 0.2%)

PPI Ex Food and Energy m/m, Aug., est. 0.1% (prior 0.3%)
PPI Ex Food, Energy and Trade m/m, Aug., est. 0.1% (prior 0.2%)
PPI Final Demand y/y, Aug., est. -0.9% (prior -0.8%)
PPI Ex Food and Energy y/y, Aug., est. 0.7% (prior 0.6%)
PPI Ex Food, Energy and Trade y/y, Aug., est. 0.7% (prior 0.9%)

8:45am: Bloomberg Sept. U.S. Economic Survey
10:00am: UMich Sentiment, Sept. preliminary, est. 91.1 (prior 91.9)

Current Conditions, Sept. (prior 105.1)
Expectations, Sept. (prior 83.4)
1 Yr Inflation, Sept. (prior 2.8%)
5-10 Yr Inflation, Sept. (prior 2.7%)

2:00pm: Monthly Budget Statement, Aug., est. -$77.5 (prior -$128.7b)
DB's Jim Reid concludes the overnight recap
Markets feel on edge at the moment with the looming FOMC meeting next week creating an air of unease and a lack of conviction, particularly in equities. Yesterday we saw a near mirror image of Wednesday with large losses in Asia (Nikkei -2.51%, Shanghai Comp -1.39%) followed up by across the board declines in Europe (Stoxx 600 -1.22%, DAX -0.90%). Modest gains were made in the US however having initially opened up a tad soft, although a 0.7% decline off the intraday highs for the S&P 500 into the close highlighted the current volatility and uncertainty, with the S&P 500 eventually closing up +0.53%.
More on yesterday's moves in a bit. But firstly to Asia where it's been a fairly mixed morning across equity markets. Bourses in China have been choppy once again, with the Shanghai Comp erasing a near 1% gain into the midday break to now be little changed (-0.07%). It's been a weaker session for the CSI 300 (-0.15%) although the Hang Seng has had a decent session, currently up 0.86%. Elsewhere we've seen a leg lower in the Kospi (-0.76%) while the Nikkei and ASX are flat.
Much of the focus this morning has been on how the offshore Yuan is trading after a 1.22% rally yesterday – the biggest appreciation since August 2010 with chatter of domestic state bank buying. The currency has followed up this morning by trading a tad weaker, down 0.20% as we type while the onshore Yuan is little changed. Elsewhere, S&P 500 futures are pointing to a slightly better start, up half a percent while there has been little change in the Oil complex.
Back to yesterday's highlights. On a light day for volumes (where S&P 500 volumes were down nearly 10% versus the 30-day average), a rebound in tech stocks, supported by a bounce back for Apple in particular seemed to be the catalyst for much of yesterday's gains for US equities. A better day in the Oil complex also helped support some of the rise with energy stocks having a decent session. That comes following a +4.01% and +2.75% bounce for WTI and Brent respectively and helped by the latest crude production data from the EIA which showed production fell by 83k barrels a day last week to the lowest since January. That seemingly offset more bearish stockpiles data while the WSJ reported in a story last night that members of OPEC expect to prices to stay at current levels through the end of the year.
One market which has seemingly come alive in the last few days is the primary market for credit. In Europe yesterday we saw decent sized deals price from Apple and Royal Dutch Shell, triggering the busiest day for corporate bond sales in the region since February. Meanwhile over in the US a bumper deal from Biogen helped mark the third straight double-digit day of US$ issuers coming to the market and helping to take the weekly volume past the $50bn mark. Staying in the asset class, it was interesting to see that with Brazil's rating downgrade on Wednesday night, a subsequent downgrade to Brazil's state owned oil producer Petrobras means the corporate has now become the largest HY issuer (based on S&P ratings), with $56bn of bonds, which far overshadows 'just' the $31bn for US HY giant Sprint.
Also in high demand yesterday was the 30y Treasury auction which saw the bid-to-cover ratio of 2.54 easily top the 2.37 average of the previous six actions and follows on from decent demand seen at the 10y and 3y auctions this week. 30y Treasury yields closed a choppy session 2.4bps higher in yield at 2.986% and the highest closing level since July 29th, while 10y yields finished up another couple of basis points at 2.223%. The data flow didn't offer a whole lot of surprises and was slightly on the softer side if anything. The import price index printed lower than expected for August (-1.8% mom vs. -1.6% expected), dragging the annualized rate down nine-tenths to -11.4% yoy. There were below market prints also for wholesale inventories (-0.1% mom vs. +0.3% expected) and trade sales (-0.3% mom vs. +0.1% expected), although there was better news on the employment front as initial jobless claims fell 6k to 275k as expected.
We noted in yesterdays EMR that DB's Joe Lavorgna had changed his Fed liftoff view from September to October, listing seven reasons why. Joe followed this up with a note last night listing the seven conditions that need to be met for a 25bp hike at the October meeting. Joe highlights that between now and then the following need to happen: 1) Global equity markets need to stabilize. 2) The Fed's broad trade-weighted dollar index has to stop appreciating. 3) Key measures of economic activity such as housing starts, nonfarm payrolls and retail sales - variables that have been relatively strong - need to remain sturdy. 4) Core inflation has to stop going down. 5) Chair Yellen needs to repeat in her press conference that the October FOMC meeting is 'live'. 6) Chair Yellen must repeat that the Fed has the ability to call an impromptu press conference to explain its action. 7) Most importantly, the financial markets have to be discounting a reasonably high probability of an interest rate hike. Should these conditions be met, Joe expects an October hike to be followed by two more 25bps increases at next year's March and June meetings.
We'd highlight that the seventh condition in particular is of significant importance in light of markets still pricing just a 28% probability of a September move (well down from the 54% we saw back in early August). A tightening in policy would clearly be a slight surprise to markets right now and it would be hard to see the Fed going against the market. We continue to back our long standing call that a hike is unlikely this year and that QE4 will eventually happen in the US.
The Bank of England was also in focus yesterday, with Sterling well bid after the BoE minutes played down the recent turmoil in markets as altering their outlook. Keeping rates on hold after an 8-1 majority (with McCafferty the lone dissenter), the minutes stated that 'global developments do not as yet appear sufficient to alter materially the central outlook described' and 'although the downside risks emanating from overseas had risen, it would be premature to draw strong inferences from this month's events for the likely path of activity in the UK'.
Onto today's calendar now. In Europe this morning the final August German CPI reading is due, along with UK construction output data. In the US this afternoon much of the focus will be on the August PPI print, while we'll also get the preliminary September University of Michigan consumer sentiment print.