You already saw the key charts yesterday, of which the most notable was this...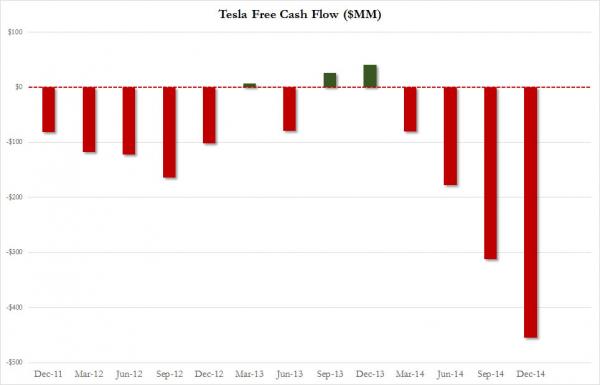 ... and now here is JPM's explanation why it is downgrading TSLA to to "Underweight on Softer Execution, Stronger Competition, and Lower Oil Prices"
We lower estimates and valuation, and downgrade TSLA shares to Underweight from Neutral after the firm reported softer than expected 4Q results which did not  evidence the type of sharp rebound in execution we were hoping for following 3Q's production challenges. Much of the 4Q miss was blamed on the timing of deliveries (push out from 4Q to 1Q, owing to customers being on vacation, severe winter weather, and shipping problems at year-end), although this was itself driven by continued production challenges intra-quarter which had caused assembly to be back-end weighted in the first place.

 

To us, 3Q & 4Q taken together serve to  highlight the execution risk associated with scaling production ? a concern we have struggled with for some time in the context of the firm's clearly demanding valuation. Ability to profitably scale production is of course central to the story: TSLA guides to 55,000 deliveries in 2015 vs. 32,000 in 2014 but, more importantly, 500,000 in 2020 and "millions" in 2025.

 

Even presupposing the demand for these vehicles will be there (we forecast substantially less – 282K in 2020), there is also the matter of being able to produce these vehicles at the desired margin rate, for which we think there is some doubt.

 

But our downgrade is about more than execution risk; we note: (1) The profound drop in fuel prices harms the competitiveness relative to internal combustion engine vehicles of TSLA's planned Model 3 mass-market car, the potential for which we believe accounts for the majority of today's equity value; and (2) Competition is mounting – automakers at the recent Detroit Auto Show debuted a number of electrified vehicles, some of which appear directly aimed at the Tesla Model S (e.g., Mercedes C-Class Plug-in Hybrid), the X (e.g., Audi Q7 e-Tron Plug-in Diesel Hybrid), and the 3 (e.g., Chevrolet Bolt) – see takeaways from our walking tour of the show. We reduce our estimates on flow-through of 4Q's softer sales and margin trends, and guidance for higher operating costs: 1Q15 goes to -$0.31 from +$0.93 and FY15 to $1.89 from $4.12. Our December 2015 price target-declines to $175 from $180.
And while JPM listed several explict rising risk factors among which:
4Q deliveries were softer
4Q revenue was lower
4Q gross margin was weaker
4Q operating expenses were higher
4Q EPS was a loss rather than profit
4Q free cash flow was a bigger outflow
1Q production is guided -33% below JPM
1Q deliveries are guided -28% below JPM
1Q operating expense is guided much higher
1Q gross margin guidance is softer than we expected
2015 delivery guidance tracked below JPM
2015 operating expense guidance was guided higher
Lower FY15 EPS on flow-through of 4Q's softer margin trend and guidance for higher expenses
The most prominent one is the following:
Other automakers starting to look a bit more like TSLA. The Detroit Auto Show featured a plethora of electrified offerings from the likes of luxury competitors such as BMW, Audi, and Mercedes ? companies already cranking out multiples of 125,000 vehicles per quarter. BMW in particular appears highly intent to address this part of the market, with its i3 and i8 models thus far. The i8 appears to have all or more of the emotive appeal of the original Tesla Roadster. In the past, TSLA has welcomed this competition, but we think it will intensify further and potentially compete for a smaller than expected addressable market for electrified vehicles, pressuring TSLA volume, given greater than expected competitiveness of internal combustion engine vehicles due to the lower price of fuel, which appears to have a structural element to it. From a mainstream model perspective, GM showed a concept version of a new 200 mile range battery electric vehicle (the "Chevrolet Bolt") which IHS Automotive has listed as the "B-BEV" launching in 4Q16 – one year ahead of the Model 3. And we estimate the timing of the Model 3 is at greater susceptibility of slipping than the GM vehicle.

 

TSLA starting to look a bit more like other automakers. While other automakers are beginning to emulate Tesla in important respects, it is not lost on us that Tesla is in some ways beginning to look more like other automakers, such as when it comes to capital intensity (it guided for $1.5 bn of capital expenditures Wednesday, above the $0.9 bn we had modeled). As it grows larger, we estimate TSLA may need, too, to make further concessions to its highly unique and thus far appealing business model. For example, it is not clear to us that a mass-market vehicle could sell hundreds of thousands of units without a dealership base where consumers could readily test drive various versions or examine colors in person or drive away the same day in a new car.
Oh well, time to shift focus to the next "feel good" story stock.