We've heard it all: snow, cold weather, hot weather, non one-time recurring, "one-time, non-recurring" charges, and even Bush. But when it comes to "excuses" for why one is wrong, this morning Goldman's note "Central banks stall a more bearish gold outlook" absolutely takes the cake.
That's right: Goldman just blamed central banks for being unable to be "more bearish" on gold.
While readers let that sink in for a bit, here is the jist of Damien Courvalin's note.
Even more monetary stimulus has helped support gold prices… 

 

While gold prices have trended lower since mid-2013, the decline has been short of our expectations. Recently, the combined support of: (1) weaker-than-expected US economic data; (2) the run-up to the announcement of QE in Europe; and (3) the surprise SNB decision to remove the CHF/EUR cap, have seen prices rise to near $1,300/toz. While we believe that these catalysts are now mostly priced in, and that gold prices will decline in 2015-16, we are nonetheless raising our near-term forecast to current prices.
Wait, so infinitely diluting fiat money and paper claims on wealth, a process which inevitaly ends up with the paradropping of bales of cash, is favorable for hard, "traditional" stores of value? Do go on...
…but the start of the US hiking cycle is drawing near

 

We expect the decline in gold prices to resume from 3Q15, with the start of the US rate hiking cycle. Accordingly, we revised our 3, 6- and 12-month gold price forecasts higher to $1,290/toz, $1,270/toz and $1,175/toz but our year-end 2016 forecast lower to $1,000/toz. While our near-term conviction in lower gold prices has declined, our confidence in lower gold prices in the long-run has increased on the back of lower expected inflation in coming years and a declining marginal cost of gold production.
Actually Damien, your own team at Goldman wrote on Friday that " We continue to expect a later-than-consensus first hike, with September remaining our baseline but the risks looking increasingly tilted to the later side" so it may be time to re-evaluate that whole "drawing near" assessment considering it is in fact being pushed further back!
Continuing:
Lower oil prices and USD strength to relieve mining cost pressures

 

Based on our cost curve modelling, we estimate that lower energy prices and USD strength have brought the "all-in" marginal production cost down $150/toz to $1,050/toz and that this move will be persistent. We also recognize that as we move further into the Exploitation phase of the commodity cycle, additional cost deflation forces are likely to emerge, such as wage deflation, increasing labor and capital productivity and a faster pace of technological (TFP) growth, leaving risk to our new long term gold price forecast of $1,050/toz skewed to the downside.
Oh, so lower crude prices are a disaster for crude producers but a gift for gold miners: gold miners the bulk of which are located in various third-world nations, where crude "trickle-down" economics works every time, all the time, and where striking miners are never on edge about the possibiliy of extracting even the smallest of wage concessions in a world in which some fixed cost is unexpectedly reduced. Got it.
Cost deflation, rising supply and higher real rates all intertwined

 

Importantly, while our cost-deflation work focuses on gold as a mined commodity, the drivers of this cost deflation are directly tied to the anchors of our cyclically bearish gold view. It is not a coincidence that the outperformance of US growth – enabled by the Shale revolution and driving gold prices lower – is occurring with a strengthening of the US dollar and amidst lower energy prices as the dynamics are very much self-reinforcing. We would further expect that the higher rate environment that will drive gold prices lower will ultimately drive gold production higher.
Ok, that really went over our heads, but with $1.4 trillion in European government debt having gone to negative interest rates since the ECB's announcement of NIRP in June...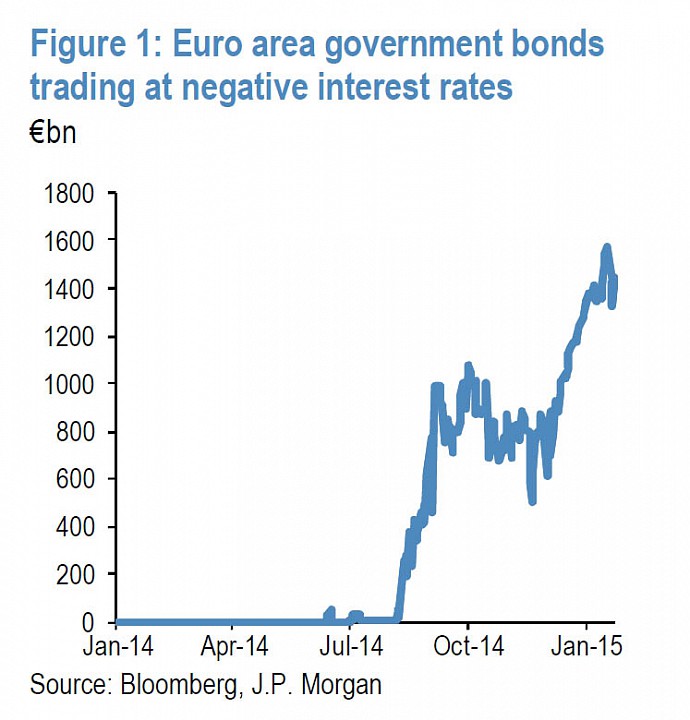 ... just which "higher rate environment" are we talking about here?