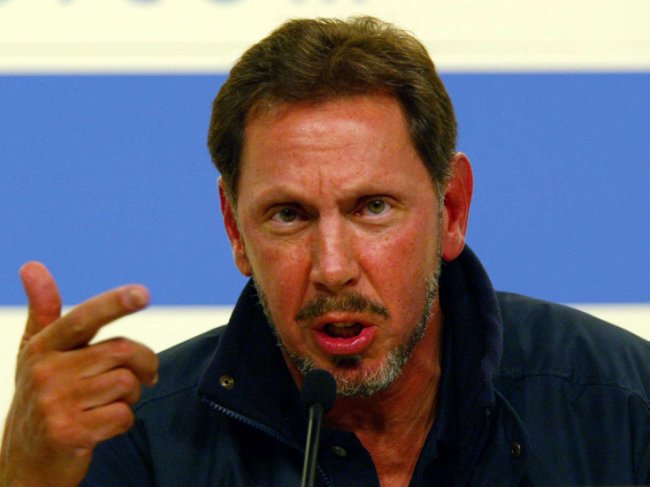 (Michael Bradley/Getty Images))
Oracle cofounder and executive chairman Larry Ellison
We just received a detailed report from a long-time Oracle customer on how Oracle used some ugly tactics to sell its cloud and other products the customer didn't want.
This is one person's account in response to a story we recently published about how Oracle has been using its "nuclear option" to boost cloud sales — that is, threatening customers with big bills for software they're using but haven't paid for, then making the threat go away if the customer buys credits for cloud services.
These tactics are something to keep in mind when Oracle reports earnings on Wednesday. As competitors have come at Oracle from all directions, its earnings have grown shaky. It's missed profit expectations for four of the last six quarters, including its last two fourth quarters. Revenue has been a miss in three of the last six quarters, too.
So Wall Street will be looking for how Oracle is ramping up its cloud sales (Oracle's future) and if it's still growing its traditional database and software sales (its highly profitable bread-and-butter products).
Oracle declined comment for this story.
Inside an Oracle "audit"
(Oracle)
Mark Hurd, one of Oracle's two CEOs.
Here's what we heard from this Oracle customer, who requested anonymity because his employer did not authorize him to talk to the press.
The story began when the customer got a baffling audit letter from Oracle asking them to give Oracle an accounting of every computer server running software from another software company, VMware.
"In hindsight I should have involved our legal team immediately since they were requesting information that had nothing to do with Oracle," says the person who shared this story with us.
To be sure, Oracle has a real business need to audit customers. Oracle makes it very easy for admins to turn on new features or add more users, and then pay for that increased usage later. That system involves an "audit." All big enterprise software companies have a similar process.
But in this case, the customer hasn't added more usage of its Oracle database.
Oracle told the customer it wanted more money because the company was running Oracle software on servers that use VMware software.
The logic? The VMware software allows servers to cluster together so that applications, like the Oracle database, can move to any server. Customers love this. It means they can make sure their database never goes down, even if there's a problem with one server's hardware.
(VMware)
VMware CEO Pat Gelsinger
In Oracle's mind, using VMware like this means ia customer could potentially move the database to another server. Therefore, the company should pay...
More