Dril-Quip Inc DRQ reported third-quarter 2017 adjusted earnings of 5 cents per share that surpassed the Zacks Consensus Estimate of a loss of 2 cents. The outperformance was mainly due to the company's cost-savings initiatives. However, quarterly earnings decreased from 39 cents a year ago due to higher expenses.

The company registered total revenues of $100.3 million in the quarter compared with $123.6 million a year ago. The reported figure, however, lagged the Zacks Consensus Estimate of $105 million.

Operating loss of $62 million decreased substantially from the year-earlier operating income of $23 million.

On the cost front, selling, general and administrative expenses increased from the year-earlier level of approximately $12.5 million to about $28 million. Engineering and product development costs declined 1.8% year over year. Dril-Quip's total cost and expenses during the quarter totaled $162.4 million, compared with $100.7 million in the year-ago quarter.

Dril-Quip, Inc. Price, Consensus and EPS Surprise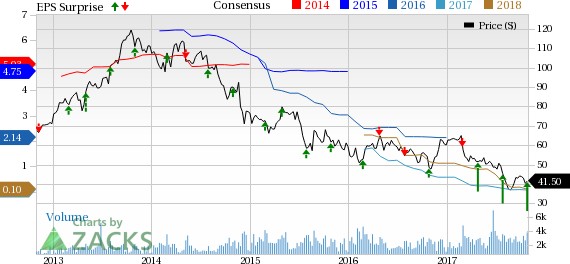 Dril-Quip, Inc. Price, Consensus and EPS Surprise | Dril-Quip, Inc. Quote
Cash Flow

The company's cash position grew significantly in the third quarter due to free cash flow generation of $29.4 million and a debt-free balance sheet compared with $19.1-million free cash flow in second-quarter 2017. This will aid the company to execute its long-term strategies of acquiring potential assets and repurchasing existing shares in the market. The company also intends to invest in research and development in the future.

Q3 Price Performance

The pricing chart reveals that the company's shares have underperformed the industry in the last three months. During this period, the company's shares have lost 9.5% as against the industry's rally of 6.3%.

Zacks Rank & Key Picks

Currently, Dril-Quip carries a Zacks Rank #3 (Hold). A few better-ranked players in the energy sector include Northern Oil and Gas Inc NOG, Braskem SA BAK and Noble Midstream Partners LP NBLX. All these stocks sport a Zacks Rank #1 (Strong Buy). You can see the complete list of today's Zacks #1 Rank stocks here.

Northern Oil and Gas, based in Minnetonka, MN, is an independent energy company. The company delivered earnings surprise of 100.00% in the preceding quarter.

The largest petrochemical operator in Latin America, Braskem, delivered an average positive earnings surprise of 88.17% in the last four quarters.

Noble Midstream Partners, headquartered in Houston, TX, has diversified energy infrastructure properties. The company delivered positive earnings surprise of 30.67% in the preceding quarter.

Zacks' Best Private Investment Ideas

While we are happy to share many articles like this on the website, our best recommendations and most in-depth research are not available to the public.

Starting today, for the next month, you can follow all Zacks' private buys and sells in real time. Our experts cover all kinds of trades… from value to momentum . . . from stocks under $10 to ETF and option moves . . . from stocks that corporate insiders are buying up to companies that are about to report positive earnings surprises. You can even look inside exclusive portfolios that are normally closed to new investors.

Click here for Zacks' private trades >>
Want the latest recommendations from Zacks Investment Research? Today, you can download 7 Best Stocks for the Next 30 Days.
Click to get this free report
Dril-Quip, Inc. (DRQ): Free Stock Analysis Report
Braskem S.A. (BAK): Free Stock Analysis Report
Northern Oil and Gas, Inc. (NOG): Free Stock Analysis Report
Noble Midstream Partners LP (NBLX): Free Stock Analysis Report
To read this article on Zacks.com click here.
Zacks Investment Research