Since last Friday's phony jobs report the casino has become so unhinged that analysis is beside the point. A picture worth an eventual thousand point drop on the S&P 500 will do the job.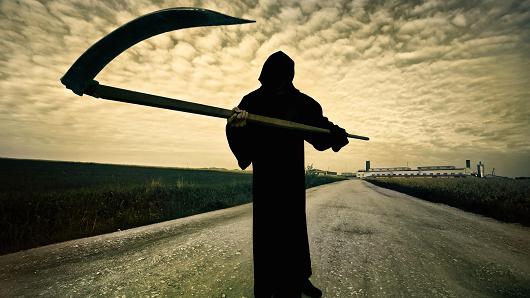 While we are waiting it might be wondered, however, whether nearly two decades of central bank financial repression have not merely destroyed honest price discovery on Wall Street. Perhaps it has actually extinguished brain function entirely among the corporal's guard of carbon units that remain.
Yes, it is not surprising at all that the robo-machines are now gunning for the 2200 point on the S&P 500 charts. That's what they do.
What defies explanation, however, is that the several dozen humans left on Wall Street who apparently talk to Bob Pisani are actually attempting to rationalize this "breakout" of, well, madness.
According to JPMorgan's latest thoughts, for example, it's all explained by Mr. Market hard at work discounting a meme called "17x/$130".
Market update – more of the same for this market. The 17x/$130 argument continues to resonate (that combination of numbers points to 2200). It's still very, very early in the CQ2 season but the indications so are more positive than negative (AA, Daimler, PEP, Samsung, SIMO, STX, WDC, etc) and that is helping investors look past the earnings recession and is bolstering confidence in a ~$130 number for next year.
Let's see. Before we get to whatever massaged and medicated version of "earnings" JPM is talking about with its $130 per share number, it would be useful to start with reality.
According, to Howard Silverblatt, the S&P's authority on these matters, reported (GAAP) earnings for the March LTM finally came in at $86.44 per share.
So barring some near-term earnings miracle, the market is now valued at a nosebleed 24.9X. The last time it was near that level outside of outright recession was on May 16, 2008.
At that point, March 2008 LTM earnings on a GAAP basis had posted at $60.39 per share. So when the market hit an intraday high of 1430 the implied multiple was nearly 24X.
Needless to say, it was a long way down from there. In fact, ten months later the market was 53% lower, and S&P reported earnings actually bottomed that quarter at $6.86 per share, or 90% lower.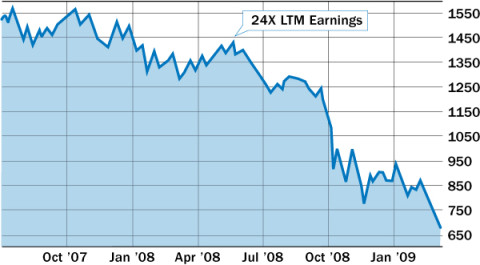 That is, besides the the several thousand white collar "criminals" domiciled in Federal hospitality facilities who undoubtedly rue the day they violated it; or the tens of thousands of bureaucrats at the SEC, DOJ and state attorneys general offices who make a living enforcing it; or the far greater numbers of white collar defense attorneys who make an even better living parsing its fine points.
How did you like this article? Let us know so we can better customize your reading experience. Users' ratings are only visible to themselves.
Then again, you don 't have to make a fetish of GAAP, even if several billion dollars annually of law enforcement and regulatory intrusion insist upon it. In fact, back in May 2008—at a time that even the White House council of economic advisers said there was no recession in sight and Bernanke was preaching mainly blue skies ahead—LTM operating earnings had posted at $76.77 per share, according to Howard Silverblatt.
So even using the ex-items style of earnings, the market was trading at a pretty sporty...
More