From Bill Ackman down, hedge-fund managers piled into Valeant Pharmaceuticals International Inc. like no other stock in North America. After its stunning fall, the question now is who's left to buy.
Valeant, in many ways, was designed for hedge funds. Cobbled together by veterans of Goldman Sachs Group Inc. and McKinsey & Co., the drugmaker borrowed heavily to buy everything in sight and raised earnings almost 20 percent a year. But as its stock has plummeted 70 percent since August over questions about its business model, the high concentration of big-name stockholders has suddenly become a liability.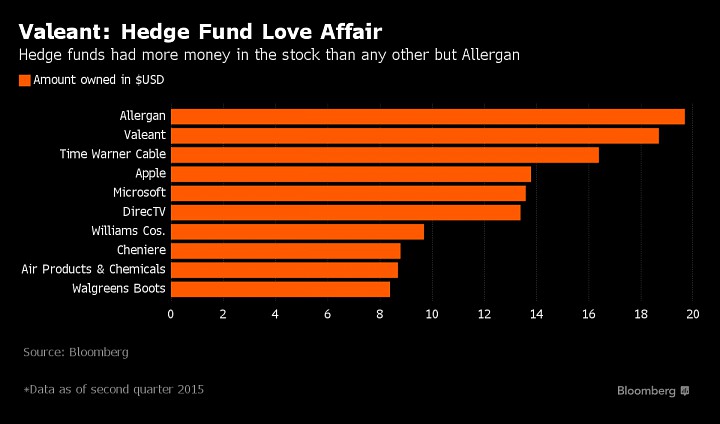 "This was a crowded name with some very bad headlines, so when you get a little hair on it, it just reacted so viciously," said Benjamin Dunn, president of Alpha Theory Advisors, which works with hedge funds overseeing about $6 billion. "I doubt you're going to see other hedge fund guys want to own this thing. It's toxic at this point."
With the second highest hedge-fund ownership of any company in America behind Allergan Plc, there's been plenty of pain to go around. Twenty-two different institutional investors, including Ackman's Pershing Square Capital Management and Paulson & Co., owned a stake greater than 1 percent of Valeant at the end of June -- higher than 90 percent of the Standard & Poor's 500 Index.
Combined, they have lost a $40 billion in just three months. It's those losses that have started to raise thorny questions about who might be in a position to buy. Valeant, which added $88 billion in value since 2009, has given up $62 billion of that since August. Among the 32 institutional investors that had Valeant in their top 10 holdings at the end of June, the average stake equaled about 10 percent of assets.
"As soon as the stock goes down these guys that were your...
More