Newell Brands Inc. NWL appears to be a sound bet, given its solid bull run that is backed by its spectacular earnings history, favorable estimate revisions, superb growth strategies and shareholder-friendly moves. Thanks to these factors, the company carries a Zacks Rank #2 (Buy). So, let's take a closer look at these parameters, which have been driving the company with long-term earnings growth rate of 12%.

Robust Earnings History & Outlook

Newell Brands appears compelling from the earnings perspective, as the company hasn't missed earnings estimates for almost seven years now. Also, the company outperformed the Zacks Consensus Estimate by an average of 7.7%, in the trailing four quarters. In fact, in the last reported first-quarter 2017 results, both the top and bottom line topped estimates.
Results gained from core sales growth across all regions and most segments, Project Renewal savings, cost synergies from Jarden and gain on sale of Newell's Tool businesses. Further, the company remains impressed with global growth and progress with e-Commerce advancement. Moreover, the company raised adjusted earnings outlook for 2017, which reflects management's confidence in its future prospects.

Favorable Estimate Revisions

Following a sturdy performance and encouraging outlook, the Zacks Consensus Estimate witnessed an uptrend as analysts raised their estimates.

Analysts polled by Zacks are convinced about the stock's upbeat performance in the future. Over the past 60 days, the Zacks Consensus Estimate of 85 cents and $3.11 for the second quarter and 2017 witnessed a rise of 2 cents and 7 cents, respectively. Clearly, analysts have a positive stance on the stock.

Stock Movement

Following the outcome and guidance, this Georgia-based company has gained over 16%. In fact, this has also helped the stock to outperform the Zacks categorized Consumer Products – Miscellaneous Staples industry over the last three months. Evidently, Newell Brands' shares have jumped 17% in the said time frame, compared with the industry's growth of 2.8%.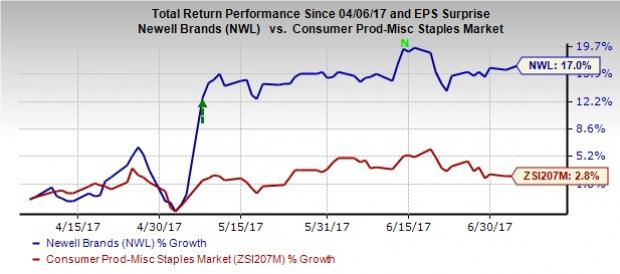 All aforementioned metrics have actually stemmed from Newell's rock-solid growth strategies and shareholder-friendly moves, which are discussed below.

Splendid Growth Strategies

Newell Brands' Project Renewal Program and Growth Game Plan have been constantly driving it forward. Incidentally, the company delivered over $115 million in synergies and Project Renewal savings in first-quarter 2017. Furthermore, it expects annual cost savings from this program to approach $700 million by 2017 end or 2018 beginning.
The third phase of the program is primarily focused on saving costs in the areas of procurement, through year-end 2017, by reducing the complexity of its business and simplifying the manufacturing and distribution processes, and through further overhead reduction. The company intends to use a major portion of the savings to accelerate growth by investing the same in business, while the remaining cost savings are expected to reflect in earnings.

As part of the Growth Game Plan, Newell remains focused on not only simplifying its operating structure, but also making prudent investments in areas with higher growth potential. This is evident from Newell's various acquisitions and divestitures that it has undertaken lately, as part of this program. Also in this regard, the company is on track with its plan of exiting product lines with annual sales of $200−$300 million across its combined business with Jarden, over the next two to three years.

Shareholder-Friendly Moves

Newell's commitment toward enhancing shareholder value is evident from its robust dividend payment history and share repurchase programs. Recently, the company raised quarterly dividend by 21% to 23 cents per share, which reflects its financial flexibility and robust ongoing prospects. Also, this hike falls in line with the company's targeted payout ratio of 30–35%. Going forward, the company anticipates growing dividend at par with earnings.

All said, we believe that Newell is moving in the right direction and these growth drivers are most likely to help it sustain its solid momentum.

Other Stocks in NWL's Space

Other top-ranked stocks in the same sector include Energizer Holdings, Inc. EPC, Ollie's Bargain Outlet Holdings, Inc. OLLI and Estee Lauder Companies, Inc. EL.

Energizer Holdings, with a long-term EPS growth rate of 7.4% carries a Zacks Rank #2. You can see the complete list of today's Zacks #1 Rank stocks here.

Ollie's Bargain, also holding a Zacks Rank #2, has a long-term EPS growth rate of 19%. The stock also possesses a sturdy earnings surprise history.

Estee Lauder's long-term growth rate of 12% and impressive earnings surprise history lend it a Zacks Rank #2.

Today's Stocks from Zacks' Hottest Strategies

It's hard to believe, even for us at Zacks. But while the market gained +18.8% from 2016 - Q1 2017, our top stock-picking screens have returned +157.0%, +128.0%, +97.8%, +94.7%, and +90.2% respectively.

And this outperformance has not just been a recent phenomenon. Over the years it has been remarkably consistent. From 2000 - Q1 2017, the composite yearly average gain for these strategies has beaten the market more than 11X over. Maybe even more remarkable is the fact that we're willing to share their latest stocks with you without cost or obligation. See Them Free>>
Want the latest recommendations from Zacks Investment Research? Today, you can download 7 Best Stocks for the Next 30 Days.
Click to get this free report
Newell Brands Inc. (NWL): Free Stock Analysis Report
Ollie's Bargain Outlet Holdings, Inc. (OLLI): Free Stock Analysis Report
Energizer Holdings, Inc. (EPC): Free Stock Analysis Report
Estee Lauder Companies, Inc. (The) (EL): Free Stock Analysis Report
To read this article on Zacks.com click here.
Zacks Investment Research