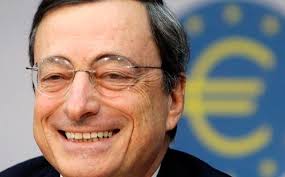 Mario Draghi disappointed investors seeking a firm target for how far he's willing to go to revive the euro-area's faltering economy.
Fleshing out new plans to boost credit and stave off deflation, the European Central Bank president said officials will start sucking up covered bonds this month and asset-based securities this quarter and continue for at least two years. He shied away from a definitive goal for how much the central bank might buy, saying total stimulus may fall short of the 1 trillion euros ($1.3 trillion) he'd earlier signaled.
Spanish bonds dropped and the euro rose on the lack of a target as the ECB takes its unprecedented step into financial markets. Policy makers meeting in Naples, Italy, left the option of expanding the program to buy government bonds in the toolbox for now.
"It's a missed opportunity," said James Ashley, chief European economist at RBC Capital Markets inLondon. "We were hoping for some kind of metric on the balance sheet."
Draghi reiterated that he wants to "steer" the ECB's assets toward early-2012 levels, when they were at more than 3 trillion euros compared with 2 trillion euros currently. Even so, he said investors shouldn't place too much emphasis on the precise size of the balance sheet.
The refusal to lock in a number may reflect division among policy makers or a suspicion that a lack of available assets limits any ballooning of stimulus, said Azad Zangana, European economist at Schroder Investment Management Ltd. in London.
Lower Ratings
"Investors had hoped that the ECB would step-up stimulus plans after the recent weakness in both growth and inflation data, either by announcing a very large amount of purchases, or the addition of sovereign-debt purchases," he said. "The problem the ECB faces is that the pool of assets being targeted is too small to make a major impact on the economy."
Austrian Central Bank President Ewald Nowotny opposed today's decision on concerns over the risks it adds to national central bank balance sheets, according to euro-zone officials who asked not to be identified because the discussion was confidential. Bundesbank President Jens Weidmann opposed the whole package including the ABS program at the September meeting, officials said last month.
Spanish bonds fell for the first time in three days, and Italian government debt also declined. The euro was 0.5 percent higher at $1.2685 at 8:15 p.m. Frankfurt time.
IMF Meeting
Greek bonds rose immediately after the ECB said it may buy assets in crisis-hit Greece and Cyprus, which have a debt rating below BBB minus. Caveats will be included so that purchases will be equivalent in risk to assets bought elsewhere. Those conditions include keeping the countries in an aid program, a requirement that could thwart Greek plans for an early exit from its bailout.
Having already cut the ECB's benchmark interest rate to a record low of 0.05 percent and offered cheap loans to banks, the Governing Council is still facing the threat of deflation in an 18-nation economy that stalled in the second quarter and risks dropping into its third recession since 2008.
The ECB's preferred measure of medium-term inflation expectations has continued to decline and factories cut prices in September by the most in more than a year. Manufacturing also shrank last month in Germany, the region's lynchpin.
"The economy is still fundamentally weak," said Draghi. "The recent weakening in the euro area's growth momentum, alongside with heightened geopolitical risks, could dampen confidence and, in particular, private investment."
Not Guilty
Euro-area policy makers are under growing pressure from foreign counterparts to rev up their economy and Draghi may face fresh calls to do so when he heads to Washington next week as theInternational Monetary Fund holds its annual meeting.
With the U.S. economy strengthening and the Federal Reserve poised to end its own quantitative easing program, White House economic adviser Jeffrey Zients this week identified Europe as the U.S.'s "number one area" of economic concern and said both its "monetary and fiscal policy are too tight."
Draghi rebutted criticism that the ECB hasn't done enough to aid its economy and again urged governments to revamp their economies to make them more productive.
"I find this description of the ECB as the guilty actor here needs to be corrected," he said. "Other policy areas need to contribute decisively."
Even so, he promised further action if needed, and signaled he won't wait forever to make his mind up.
"We are going to gear our action according to how the medium-term outlook of our inflation expectations will develop in the coming months," he told reporters. "Not coming years. Coming months."