This Monday, in the aftermath of the Turing Pharma's Martin Shkreli "price gouging" scandal, Citron Research came out with a report in which, in order to justify its "Short Valeant" thesis, it released a table which showed what it believed was the true specialty pharma culprit when it comes to rising drug prices: Valeant Pharmaceuticals.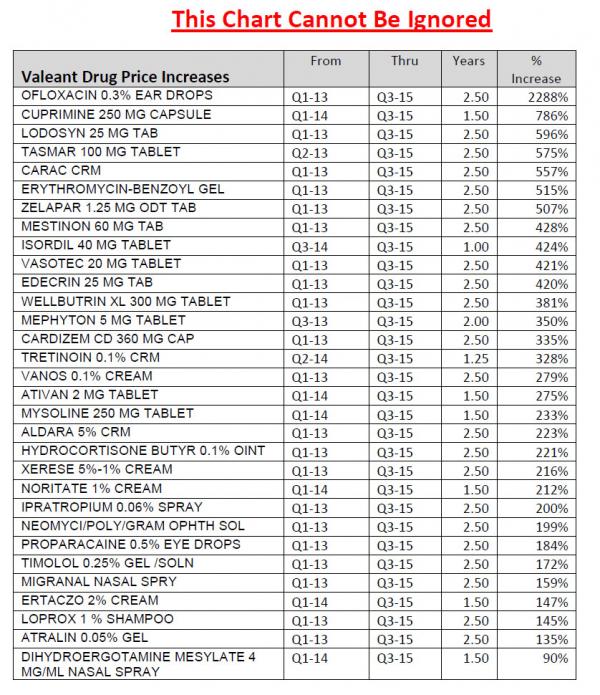 To be sure, there was nothing scientific about the above unaudited table, which was surely meant to validate Citron's underlying thesis, which incidentally is the same as that of Hillary Clinton and many others, namely that specialty pharma companies are eager to boost prices in an environment where various social safety nets and insurance regimes make such price increases not only tolerable, but virtually invisible at least until someone like Shkreli comes along and spoils the party for everyone.
So today, a more "credible" analysis was released by Deutsche Bank, one which has essentially done precisely what Citron did in tracking the change of drug prices, not only for Valeant but the entire specialty pharma industry.
As a reminder, the main reason why the biotech space has gotten crushed in recent days is due to concerns the US government may impose price caps in the coming months.
This is what Deutsche Bank had to say:
We compiled historical changes in the wholesaler acquisition cost (WAC), or list price, for branded drugs for our companies under coverage using Wolters Kluwer's PriceRx database. We looked at the magnitude of price changes on a month-by-month basis since January 2012 for branded drugs with at least $10mn of annual IMS sales. Important caveats are that 1) this analysis is based on list prices, which do not factor in various rebates or discounts that are included in "net" price, and 2) the pricing history in PriceRx is not comprehensive for some drugs (eg, PriceRx does not have the WAC for Copaxone 20mg prior to August 2014).
The findings:
Specialty Pharma companies increased branded drug prices by an average of 16% in 2012, 29% in 2013, 22% in 2014, and 19% in 2015 YTD.
Does anyone stand out? Why yes: "During 2014, VRX and MNK had the largest average price growth at 50% (across 62 drugs for VRX and 4 drugs for MNK), followed by MYL at 22% (6 drugs), and AGN at 15% (47 drugs). In contrast, the US Major Pharma group increased prices by an average of 12% in 2012, 14% in 2013, 13% in 2014, and 8% in 2015 YTD."
Here it is again, with the notable price-increasing company highlighted: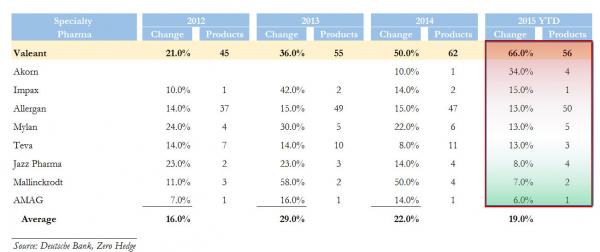 In 2015, by a margin of 2 to 1 compared to the second biggest offender, Akorn, Valeant has continued its policy of increasing drug prices by at least 21% on the low end (and way back in 2012), and as high as 66% this year.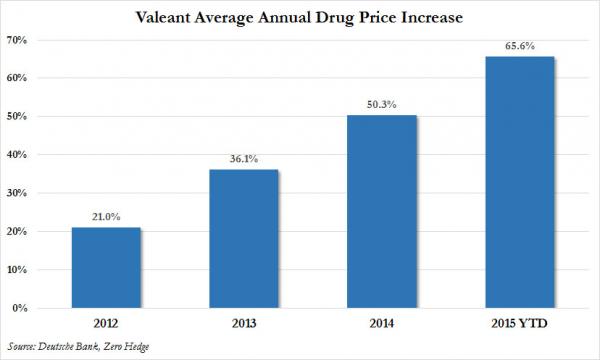 Focusing just on the Canadian company, here is Deutsche Bank's breakdown of the annual drug price increases for Valeant alone: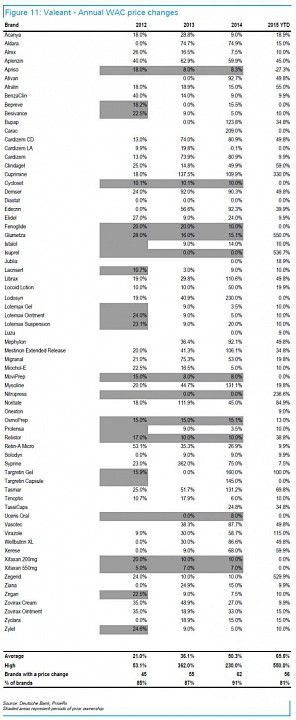 To be sure, in the upcoming Congressional hearing seeking price-hiking answers from Valeant (and Martin Shkreli), the above table will be front and center.
And while the company's stock price may have rebounded strong today after tumbling by 25% in the past few days, hoping the worst is behind it...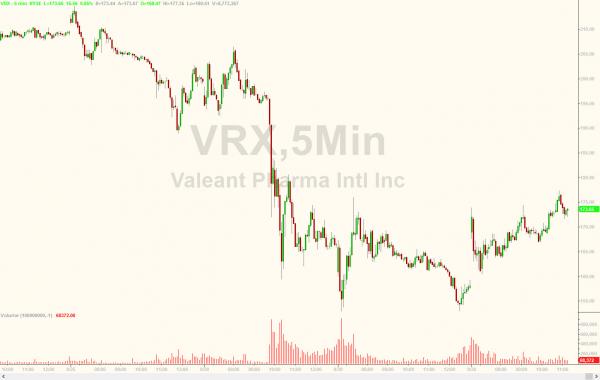 ... the company's Credit Default Swaps sing a different tune, and as of moments ago, with the CDS spread blowing out to 440 bps, suggested Valeant default risk is now a whopping 32%.