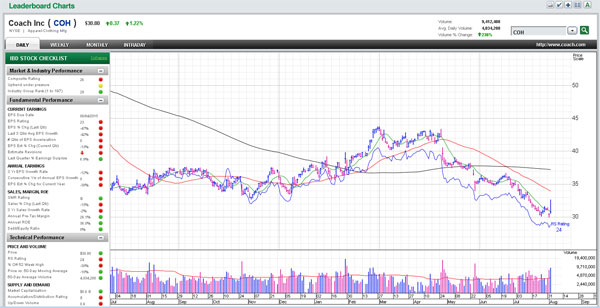 Coach (NYSE:COH) continues its turnaround journey as the fashion house guided far above full-year revenue estimates and sees a return to positive North American comparisons by the end of fiscal 2016.
Shares of the maker of leather handbags and accessories peaked at 32.42 in morning trade but by midafternoon had eased to 30.80, up 1.2% in the stock market today.
Excluding transformation-related charges and acquisition costs, Q4 earnings topped forecasts by 2 cents but fell more than 47% to 31 cents. Revenue dipped almost 12% to $1 billion, helped by its May buyout of Stuart Weitzman. Analysts had expected $973 million.
Including one-time charges, Coach earned $11.7 million in Q4 net income on a GAAP basis, or 4 cents a share, compared with $75.2 million net income, or 27 cents a share, in Q4 2014.
As the brand works to maintain relevance with the fashion-savvy set, the early results of its transformation can be seen in its new designs and "modern luxury" concept store renovations.
CEO Victor Luis said Tuesday that the global introduction of its new concept stores will accelerate, and Coach will have a presence at New York Fashion Week next month, debuting a 75th...
More