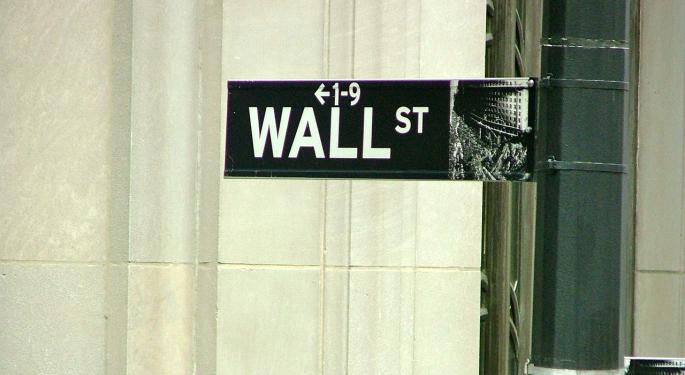 The U.S. equity market posted solid gains on Thursday on the back of a number of strong earnings reports from key sectors. It was also a historic day on Wall Street as the Dow, S&P 500 and Nasdaq all finished the session at new all-time closing highs for the first time since December 31, 1999.
Energy stocks led the market gains as prices for crude oil jumped on economic optimism. Consumer cyclical stocks climbed better than 1 percent on the session on the back of big gains from Macy's Inc M 17.09% and Kohl's Corporation KSS 16.17% after earnings. Macy's shares jumped 17 percent on Thursday while Kohl's added 16 percent. Losers on the session included Vista Outdoor VSTO 16.73%, which fell 17 percent after a disappointing earnings report, and Valeant Pharmaceuticals VRX 10.36%, which fell more than 10 percent on news that a criminal investigation of the company is under way by the Manhattan U.S. Attorney's office.
Major Averages
The Dow Jones Industrial Average gained 118 points, or 0.64 percent, to finish just below 18,614, a record high.
The S&P 500 climbed 10 points, or 0.47 percent, to 2,186. The S&P finished the day at a new all-time high.
The Nasdaq added 24 points, or 0.46 percent, to 5,228, also a new all-time high.
Related Link: The Market In 5 Minutes: Valeant's Fraud, Macy's Beat, And Arianna's Departure
Initial Jobless Claims
Initial jobless claims for the week of August 6 were 266,000 which was in-line with consensus estimates and 1,000 less claims than the week prior.
Continuing Claims
Continuing jobless claims for the week of July 30 were 2.155 million which compared to 2.144 million in the prior period.
Commodities
The commodity complex was higher on Thursday on the back of energy gains. The Bloomberg Commodity Index added 0.90 percent on the session.
NYMEX crude oil futures climbed more than 4 percent to $43.42 while Brent contracts jumped 4.29 percent to $45.95.
Precious metals traded lower on Thursday. COMEX gold futures were down 0.65 percent to $1,343.10. The SPDR Gold Trust ETF GLD 0.69% fell 0.69 percent to $127.67. Silver futures lost a little less than 1 percent to $19.98 on the day. The iShares Silver Trust ETF SLV 1.04% fell 1.04 percent to $18.96.
In the grains complex, corn and wheat were both lower during Thursday's trading session. Corn futures lost 0.38 percent to $3.3175 while wheat futures shed 1.30 percent to $4.1625. Cotton contracts added 0.59 percent on the day.
Bonds
Treasury prices were sharply lower on Thursday as money flowed out of bonds and into equities. At the close of equity trading, the iShares Barclays 20+ Year Treasury Bond ETF TLT 0.89% was down 0.89 percent to $138.91.
Treasury yields were as follows on Thursday afternoon: The yield on the 2-Year Note was 0.76 percent. The 5-Year Note was yielding 1.16 percent. The 10-Year Note was last yielding 1.57 percent while the 30-Year Bond yield was 2.28 percent.
Currencies
The U.S. Dollar was slightly higher on Thursday. The PowerShares DB US Dollar Index Bullish ETF UUP 0.28%, which tracks the performance of the greenback versus a basket of foreign currencies, traded up 0.28 percent to $24.79. The closely watched EUR/USD pair fell 0.19 percent to 1.1139 euros.
Volatility and Volume
The CBOE Volatility Index (VIX) was lower on the session, falling around 3 percent to 11.68. The 52-week range in the VIX is 11.02 to 53.29, so volatility levels remain near one-year lows.
Volume was light on Thursday as much of Wall Street remains on vacation. Around 62 million shares of the SPDR S&P 500 ETF SPY 0.46% trading hands versus a 3-month daily average of just under 94 million shares. Trading in the PowerShares QQQ Trust QQQ 0.43% was also below average with just 12 million shares trading hands compared to a 3-month daily average of almost 23 million.
© 2016 Benzinga.com. Benzinga does not provide investment advice. All rights reserved.
Source