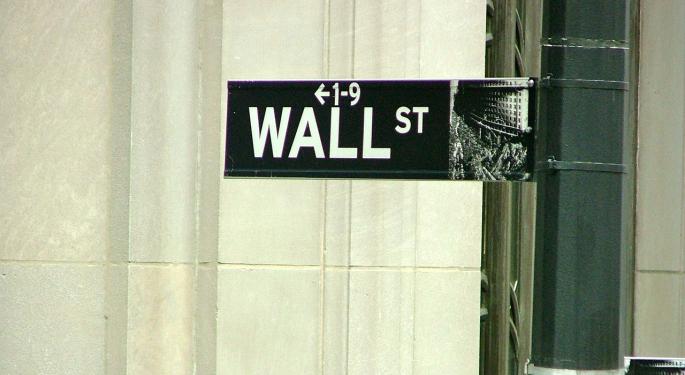 Alcoa Inc AA 4.17% kicked off Q1 earnings season on Monday, reporting EPS of $0.07 on revenue of $4.95 billion versus consensus estimates of $0.02 and $5.14 billion. The mixed results triggered an equally mixed market reaction. After falling 2.6 percent in Tuesday's session, Alcoa's stock is surging 5.4 percent Wednesday.
Alcoa is typically the first big-name company to report each earnings season, and some traders look at it as a bellwether for the quarter. Benzinga asked Twitter if Alcoa's earnings are an important indication of the entire earnings season.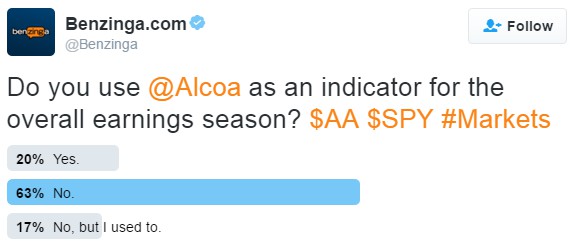 Nearly two-thirds (63 percent) said that Alcoa's results are meaningless when it comes to the rest of the market, while 20 percent of respondents say that they take Alcoa's earnings seriously as a predictor of the strength of the entire earnings season.
Related Link: The Derivatives Market Is Betting Almost Exclusively On A Selloff
One thing is for sure: earnings season is a critical period for any investor. Quarterly reports are the most important catalyst for many stocks throughout the year, but earnings tend to move certain stocks more than others.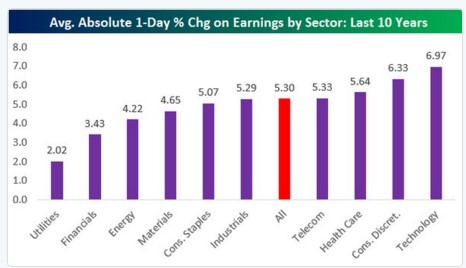 For better or worse, tech stocks move the most of any sector on the day following earnings reports, averaging a 6.9 percent move over the past decade. Utility stocks demonstrate the most overall earnings stability, moving an average of only 2 percent on the day after earnings.
Disclosure: the author holds no position in the stocks mentioned.
Read more: http://www.benzinga.com/news/earnings/16/04/7835429/do-you-use-alcoa-as-an-indicator-for-earnings-season#ixzz45izxFop4