Solar major SolarCity Corp. SCTY is set to release first-quarter 2016 results after the market close on May 9. In the preceding quarter, the company delivered a positive earnings surprise of 7.78%. Let's see how things are shaping up for this announcement.

Factors At Play

On the fourth-quarter call, SolarCity projected first-quarter operating expenses in the range of $230 million to $240 million and a non-GAAP loss of $2.55 to $2.65 per share, wider than a loss of $2.37 per share in fourth-quarter 2015 and a loss of $1.52 per share in first-quarter 2015.

The company expects installations to grow 18% year over but decease 34% sequentially to 180 megawatt ("MW"). The sequential decline is mainly due to higher-than-usual seasonal slowdown as well as the impact of its decision to end Nevada operations in Dec 2015.

It is important to note that SolarCity had rapidly expanded its business and won customers before the planned federal tax credit cut in 2017. The 30% tax credit for solar systems on residential and commercial properties was slated to drop to 10% in 2017. Although in Dec 2015 legislation enabled solar power companies to keep claiming federal investment tax credits ("ITC") at 30% of the price of solar energy systems installed by businesses or homeowners till 2019, the money that has already been invested in its business is currently weighing on SolarCity's bottom line.

This California-based solar major continues to pursue multiple growth ventures and marketing ploys to strengthen its presence across the nation. SolarCity has already manufactured the world's most efficient rooftop solar panel, with a module efficiency of 22.04%, as measured by Renewable Energy Test Center.

Earnings Whispers

Our proven model does not conclusively show that SolarCity will beat estimates this quarter. This is because a stock needs to have both a positive Earnings ESP and a Zacks Rank #1 (Strong Buy), #2 (Buy) or #3 (Hold) for this to happen. That is not the case here as you will see below.

Zacks ESP:  Both the Most Accurate estimate and the Zacks Consensus Estimate currently stand at a loss of $2.30, which translates into an Earnings ESP of 0.00%.

Zacks Rank: SolarCity's Zacks Rank #3 (Hold), when combined with 0.00% Earnings ESP, makes surprise prediction difficult.

Note that we caution against stocks with a Zacks Rank #4 or #5 (Sell-rated stocks) going into the earnings announcement, especially when the company is seeing negative estimate revisions.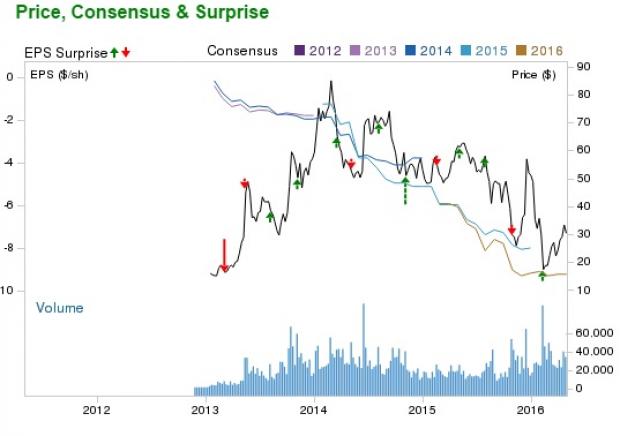 Other Solar Releases

8point3 Energy Partners LP CAFD, a limited partnership formed by First Solar Inc. FSLR and SunPower Corp. SPWR, reported earnings of 27 cents per share in the first quarter of fiscal 2016 (ending Feb 29, 2016), while the Zacks Consensus Estimate was a loss of 13 cents per share. The partnership swung into profit with a net income of $5.3 million in the reported quarter from a net loss incurred in the year-ago period.

First Solar Inc. reported first-quarter 2016 earnings of $1.66 a share, sweeping away the Zacks Consensus Estimate of 91 cents by 82.4%. Reported earnings were also a reversal from the prior-year loss of 61 cents per share, reflecting higher sales, gross profits, operating income and lower expenses.

SunPower Corp. reported first-quarter 2016 adjusted loss per share of 42 cents, wider than the Zacks Consensus Estimate of a loss of 23 cents by 82.6%. In the year-ago quarter, the company reported earnings of 5 cents per share.

Want the latest recommendations from Zacks Investment Research? Today, you can download 7 Best Stocks for the Next 30 Days. Click to get this free report >>
Want the latest recommendations from Zacks Investment Research? Today, you can download 7 Best Stocks for the Next 30 Days.
Click to get this free report
FIRST SOLAR INC (FSLR): Free Stock Analysis Report
SOLARCITY CORP (SCTY): Free Stock Analysis Report
SUNPOWER CORP-A (SPWR): Free Stock Analysis Report
8POINT3 ENERGY (CAFD): Free Stock Analysis Report
To read this article on Zacks.com click here.
Zacks Investment Research