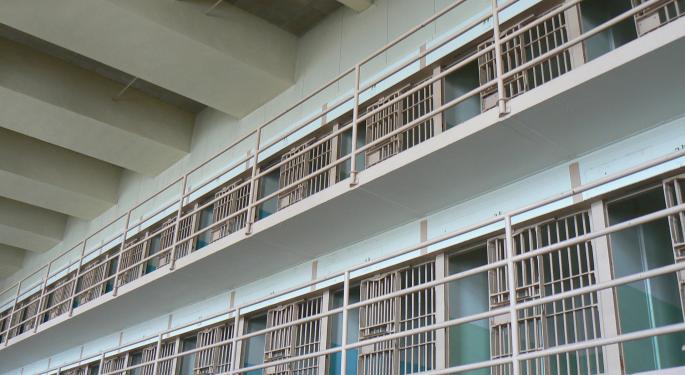 Canaccord Genuity trimmed the price targets of private prison operators Corrections Corp Of America CXW 0.78% and The GEO Group Inc GEO 0.26% following the recent announcement from the Department of Justice that it would end its use of private prisons.
The brokerage, which said there is substantial risk to more contract cancellations, cut the price target of Corrections to $21 from $30 and GEO to $28 from $38. However, it sees minimal near-term risk to the non-BoP contracts of both GEO and CXW.
"However, we maintain concerns surrounding Federal Bureau of Prisons (BoP) contract cancellation headlines, a likely CXW dividend cut, and risk of a CXW covenant breach that could all weigh on both GEO and CXW shares in the near-term," analyst Ryan Meliker wrote in a note.
Meliker said CXW could cut its dividend "upwards of 35%" as soon as in the first quarter 2017 assuming the BoP contracts go away upon renewal and the STFRC loses half of its EBITDA upon renegotiation.
However, the analyst sees no risk to GEO's dividend, even when including the loss of all BoP renewals in assumptions.
Meanwhile, the analyst noted that CXW's covenants is at risk given the potential for a bigger cut to the STFRC EBITDA than his $70 million assumption and the risk to the Houston ICE contract. At its lowest point in 2017, CXW would only have $43 million in cushion over covenants.
On the other hand, Meliker noted that GEO would still have, at its lowest point in 2017, $71 million in cushion above covenant targets despite the loss of upcoming BoP renewals.
CXW is operating at 3.3x current leverage and 5.0x covenants, while GEO is operating at 4.7x leverage with covenant stripped at 6.25x.
On a positive note, the analyst sees the contracts from the U.S. Marshals Service (USMS), Immigration and Customs Enforcement (ICE), and State unaffected over the medium-terms as he don't see a scenario where USMS or ICE could operate without private prison facilities.
Meliker reaffirmed his Hold rating on CXW and Buy rating on GEO.
Date
Firm
Action
From
To
Jul 2016
SunTrust Robinson Humphrey
Downgrades
Buy
Neutral
Mar 2016
Canaccord Genuity
Maintains
Hold
Jul 2015
Canaccord Genuity
Initiates Coverage on
Hold
© 2016 Benzinga.com. Benzinga does not provide investment advice. All rights reserved.