AMC Networks Inc. AMCX is engaged in producing and programming of movie content. It owns and operates various cable televisions. Its programming networks include AMC, IFC, Sundance Channel, WE tv, and IFC films.
AMC Networks' strength lies in programs with original content for which it holds ownership rights. Shows like Breaking Bad and Mad Men have been major hits, driving commercial success for the company. However, one of the biggest drags for the company is that its network is entirely dependent on the The Walking Dead franchise. Additionally, serious competitive threat from over-the-top (OTT) online video streaming service providers and other media companies may mar the quarter's performance. The recent trend of the bulk of ad revenues skewed toward Internet TV is a concern as well.
AMC Networks currently carries a Zacks Rank #3 (Hold). You can see the complete list of today's Zacks #1 Rank (Strong Buy) stocks here. The company has generated a positive average earnings surprise of 9.66% in the previous four quarters. We have highlighted some of the key stats from this just-revealed announcement below:
Earnings: AMC Networks reported stronger-than-expected third-quarter 2017 earnings. Our consensus adjusted earnings estimate called $1.15 per share while the company posted figure was $1.68 per share. Investors should note that these figures take out stock option expenses.
Revenue: AMC Networks reported total revenue of $648 million which lagged our estimate of $656 million.
Key States to Note: In the reported quarter, adjusted operating income (AOI) in the National Networks division was up 22.9% year over year and that of International & Other division was down 25.9% year over year.
AMC Networks Inc. Price and EPS Surprise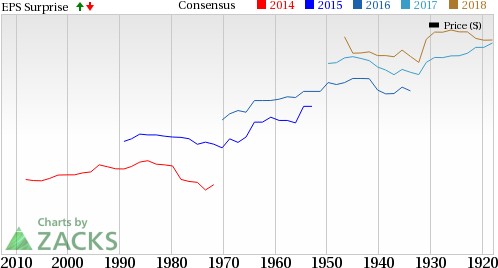 AMC Networks Inc. Price and EPS Surprise | AMC Networks Inc. Quote
Check back later for our full write up on this AMC Networks earnings report later!
Zacks' Best Private Investment Ideas

While we are happy to share many articles like this on the website, our best recommendations and most in-depth research are not available to the public.

Starting today, for the next month, you can follow all Zacks' private buys and sells in real time. Our experts cover all kinds of trades… from value to momentum . . . from stocks under $10 to ETF and option moves . . . from stocks that corporate insiders are buying up to companies that are about to report positive earnings surprises. You can even look inside exclusive portfolios that are normally closed to new investors.

Click here for Zacks' private trades >>
Want the latest recommendations from Zacks Investment Research? Today, you can download 7 Best Stocks for the Next 30 Days.
Click to get this free report
AMC Networks Inc. (AMCX): Free Stock Analysis Report
To read this article on Zacks.com click here.