Welcome to Episode #90 of the Zacks Market Edge Podcast.
Every week, host and Zacks stock strategist, Tracey Ryniec, will be joined by guests to discuss the hottest investing topics in stocks, bonds and ETFs and how it impacts your life.
In this episode, Tracey is joined by David Bartosiak, the editor of Zacks Momentum Trader and Home Run Investor newsletters, to discuss buying stocks at their highs.
Obviously, the overall markets have been hitting new all-time highs in 2017, but many individual names have also been doing the same.
In a recent episode of the Value Investor Podcast, Tracey discussed 5 value stocks that had soared over 100% in just 2017 alone.
After that podcast, she got a lot of questions from investors and traders about how hard it was to buy a stock when it was hitting new highs. Isn't the rally in the shares already done? Aren't you too late if you're buying on the high?
What to Look for With Momentum Stocks
Dave is Zacks Momentum specialist so he knows all about buying stocks on their highs.
He looks for these 2 scenarios:
1. A paradigm shift in the story. This could be that a company announces an acquisition, it lands a new major client, its drug trial is a success, or business picks up in an overseas market. Look for something that has changed in that company's business.
2. A paradigm shift with investors. This results from investors becoming more comfortable investing in the space even though the numbers remain the same. An example would be investors figuring out that all brick and mortar stores really aren't going to be Amazoned.
Momentum buying isn't just about the chart. It's also about the underlying story, especially with earnings.
Investors and traders have to examine both parts to determine whether they should jump in.
5 Stocks to Buy on Their Highs
1. OraSure Technologies OSUR is up 117% year-to-date. What's driving this healthcare tool maker? Dave discusses what's new in the story.
2. Tal Education Group TAL has jumped 108% year-to-date. This is a Chinese education company. Is it safe to invest in the Chinese stocks again?
3. Visa V is up 24.7% year-to-date. Should you be buying it on the highs? Dave says the price and consensus chart tells you all you need to know. It's THE number one chart to look at for momentum stocks.
Visa Inc. Price and Consensus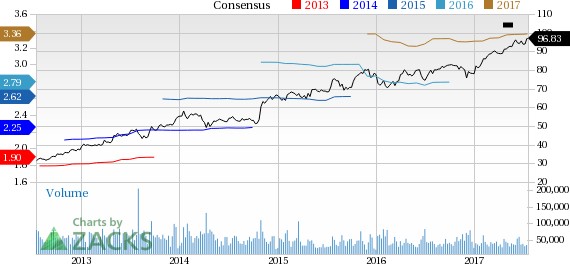 Visa Inc. Price and Consensus | Visa Inc. Quote
1. Domino's DPZ also continues to trade on its highs. Shares are up 33% year-to-date. Is it too much now? Dave also says to consult the price and consensus chart for these companies with steady earnings growth.
2. Ulta ULTA was trading at its highs earlier in the year but has had a sudden sell off and is now mostly flat on the year. Dave says to watch out for "a growth stock that is no longer a growth stock." Is that true of Ulta?
Ulta Beauty Inc. Price and Consensus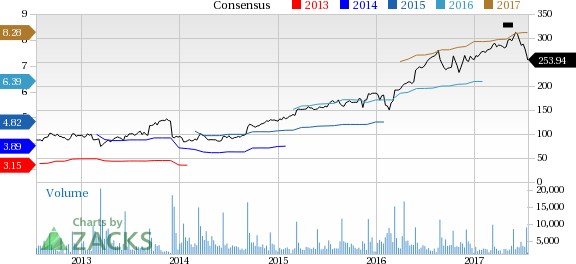 Ulta Beauty Inc. Price and Consensus | Ulta Beauty Inc. Quote
What else should you know about buying stocks on their highs?
Find out on this week's podcast.
[In full disclosure, Tracey owns shares of Ulta in her personal portfolio.]
Want to Learn How to Trade Options?
Have you always wanted to trade stock options but are unsure where to begin or what to look for?
Each week, Zacks' Dave Bartosiak will bring you a detailed explanation of the trades "live" on YouTube.
Watch him go through the trade as he answers your questions in real time.
Become one of Dave's minions. Join the Zacks Live Trader community today. Click here for a free 14-day trial >>>
Want the latest recommendations from Zacks Investment Research? Today, you can download 7 Best Stocks for the Next 30 Days.
Click to get this free report
TAL Education Group (TAL): Free Stock Analysis Report
OraSure Technologies, Inc. (OSUR): Free Stock Analysis Report
Domino's Pizza Inc (DPZ): Free Stock Analysis Report
Ulta Beauty Inc. (ULTA): Free Stock Analysis Report
Visa Inc. (V): Free Stock Analysis Report
To read this article on Zacks.com click here.
Zacks Investment Research