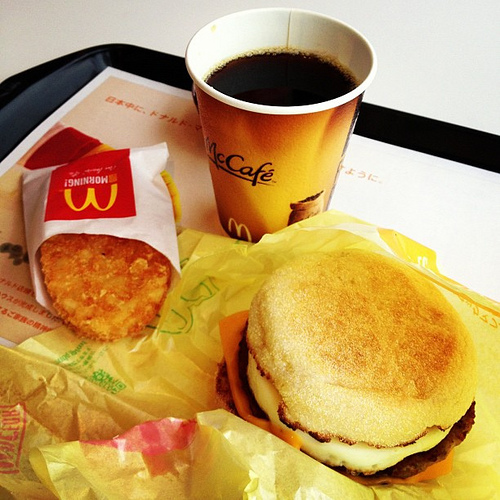 Here it comes. The moment we've all been waiting for.
McDonald's (NYSE: MCD) recently announced it will offer its coveted breakfast menu all day in locations across the United States beginning October 6, according to CNN Money. The burger giant has been testing the service since March with positive results.
After seeing consistent quarters of declining sales, the company replaced its former CEO with Steve Easterbrook, who has been testing and implementing changes in McDonald's menu since he took over earlier this year. All-day breakfast is part of the plan, CNN Money reported.
According to a McDonald's representative, all-day breakfast has been the No. 1 requested service from customers, CNN Money reported. In a time where other big-name fast food chains, like Taco Bell for example, are also ramping up their morning menus, McDonald's needed to make a drastic change.
For franchisees, the menu changes mean changes in the kitchen. According to CNN Money, in order to accommodate all-day breakfast, franchisees will spend between $500 and $5,000 for things like toasters and griddles.
I've posted about this in the past and still feel the same way: in order to improve sales, McDonald's needs to make some drastic changes. All-day breakfast is one of them.
Everyone at some point has pulled up to McDonald's at 10:31 a.m., and was therefore unable to pick up a McGriddle or McMuffin. It's frustrating and with other chains offering breakfast all day, bad for business.
However, this change is not without risk. Instead of attracting more customers, McDonald's could continue to have the same customers that would have come in to order a Big Mac for lunch, simply ordering a McGriddle instead.
For more business and financial news, click here.
*This is editorial content and expresses the opinion of the author.