The USD index has been generally in a sideways range throughout most of January and the first half of February.
<!== INSTRUMENT %% %240% ==!>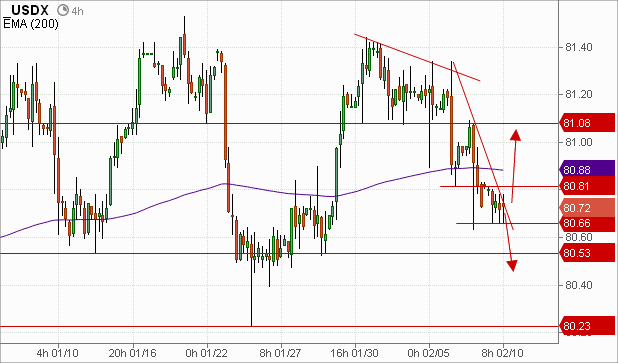 The last 2 weeks have seen the index fall back below 81, with initial support near 80.65.
There is a short-term attempt to create a bottoming action, and it will be successful in the short-term if the index can get above and hold above 80.75/80.80.
A rally higher would keep within the theme of a sideways market, until the dollar can move above 81, and then 81.40 (the highs from January).
On the other hand, we could be witnessing a downswing that tests and breaks through 80.50. The break of 81 as support was followed by a throwback test of that level as resistance, which held and after which we saw a bit of a markdown in the pair. Was this just a retracement? Or is the USD set for further losses against key rivals.

The macro situation is key now because it will inform us just how the Fed is likely to act. The weak economic data from the US has been primarily blamed on bad weather, so will it be able to see a bounce back here in late-winter/early spring? If so, the USD is in a good place fundamentally, especially as the Euro-zone deals with very low levels of inflation (and fear of deflation) while the Japanese will be dealing with a sales tax increase that will hurt economic momentum. Both the ECB and BOJ then may be more dovish in the following months when compared to the Fed, and that should help to bolster the USD's chances. Still, this is a short term look/analyis of the chart, and we still have pretty well defined support and resistance levels in this ranging action.