Workiva provides a cloud-based and mobile-enabled platform for enterprises to collect, manage, report, and analyze business data in real time. The company's stock grew up more than 8% last week, so I think that we need to check if there is any further potential. 
<!== INSTRUMENT %% %60% ==!>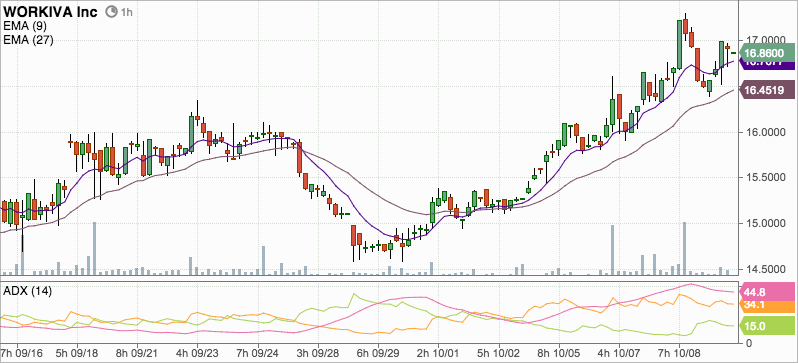 The company's customer base is growing each year, 3-y CAGR is around 17%. According to the latest report, as of June 2015 the company had 2,390 clients. The latest new feature announcement was at Workiva's annual user conference. This new feature called Support Binders creates a digital paper trail for reporting to SEC. Workiva's team is always working on product development and I assume that the company is able to continue getting new customers over the next several years. 
Average revenue per account
Despite the fact that the growth rate of customer base is high, ARPA is growing as well. We can usually see right the opposite trend. Workiva's 3-y CAGR of ARPA is more than 18%, the company increased its ARPA from $24K in 2012 to $40K in 2014. During the first half of the year, Workiva received around $27K per each client. Hence, I assume that the company will increase its ARPA significantly this year. In the most positive case, the company will be able to achieve $50K average revenue per each client. 
Customer acquisition cost
The customer acquisition cost is growing as other operating and financial metrics. Moreover, the growth of CAC is much higher. In 2013 Workiva spent around $81K per each new client, in 2014 CAC increased to $160K. However, we can find a positive dynamic for Workiva even in CAC increase. Marketing and sales expenses as % of revenue decreased from 52% in 2012 to 47% in 2014. As of June 2015, marketing expenses were around 38% of revenue, so we can talk about the cost optimization and margin increase. 
Product development costs
Product development costs were around 39-40% of revenue over the last two years. I think that the company will keep this percentage for the next several years in conservative scenario. As of June 2015 Workiva reduced the portion of product development expenses to 31% of revenue. 
To sum up, if we talk about long-term strategy, I think that Workiva has a huge potential. We will not see the results rapidly, but all the operating and financial metrics show the positive dynamic.