It's been nearly two long years, but Apple (NASDAQ: AAPL) shares are back at all-time highs last seen in April 2015. The record trade set back then was $134.54, and shares are currently trading within pennies of it. Investors have spent much of the past year fretting about peaking iPhone sales, with the modest gain posted in the fourth quarter quelling some concerns.
Shares are rising today as at least two Street analysts are taking bullish stances: Goldman Sachs analyst Simona Jankowski and UBS analyst Steve Milunovich.
Services should be worth more
Milunovich believes that even at record prices, Apple shares are still undervalued. The analyst points to the company's services business, believing that investors aren't fully appreciating the growing segment. For reference, services revenue comprises 12% of total sales over the past four quarters. While Apple doesn't break out profitability by segment, services are generally always higher-margin than hardware. That's particularly true for the agency model used in the App Store, since Apple only recognizes the net portion of what it keeps (as opposed to the wholesale, where Apple must record costs as well, which is used for iTunes Music downloads).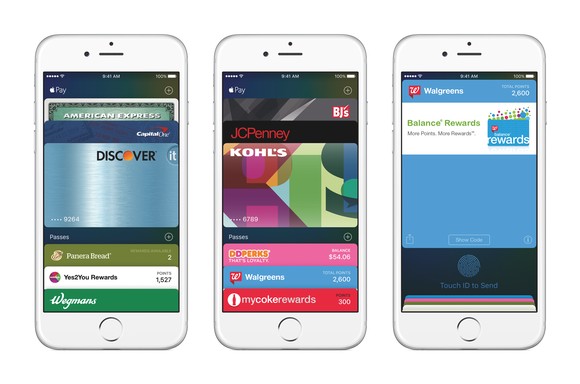 Apple Pay is part of Apple's growing...
More