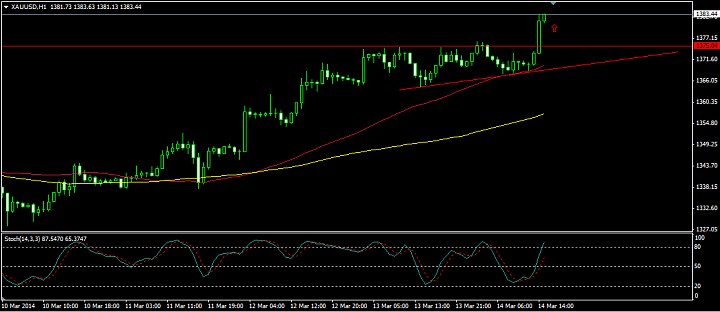 Gold was consolidating within an ascending triangle on the hourly chart and broke out the resistance trend line after the Department of Labor reported the Producer Price Index data. It's a leading indicator of consumer inflation as when producers charge more for goods and services the higher costs will be passed on to the consumer.
 According to the report the PPI fell .1% in February on a seasonally adjusted basis. However on an unadjusted basis, the index for final demand moved up .9% for the 12 months ended in February, the smallest 12 month rise since a .9% increase in May 2013.The decline can be traced to the index for Final demand services which fell .3% in contrast the prices for final goods advanced .4%. Gold surged after the weak US data and may continue to move up until it find next resistance at 1400.76.
 A separate report on Consumer Sentiment which is due to release on 9:55 AM EDT and might drive the movement of Gold.