A prudent investment decision involves buying stocks that offer solid prospects while selling those that are risk. At times it is rational to hold certain stocks that have enough potential but are weighed down by tough market conditions. Here we have discussed one such stock, FactSet Research Systems Inc. FDS, which has expected long-term earnings per share growth rate of 10.67% and a market cap of $6.7 billion.
Notably, FactSet has outperformed the Zacks categorized Business Services industry. The company has gained 2.3% over the past one month while the industry has grown just 1.2% in the same time frame.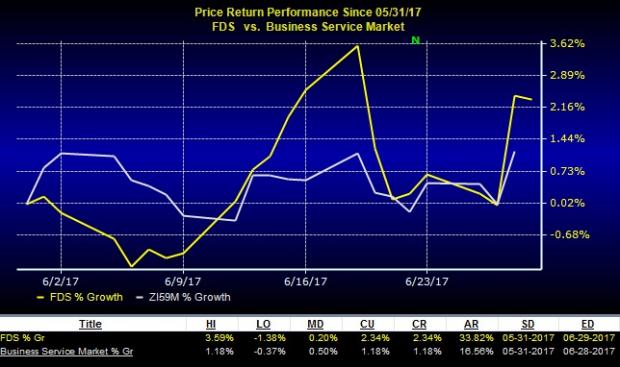 Let's look at the reasons behind FactSet's solid momentum.
Driving Factors
The company reported adjusted earnings per share of $1.85 in the third-quarter fiscal 2017, which surpassed the Zacks Consensus Estimate by a penny. The figure was toward the higher end of the guided range of $1.80--$1.86 per share. Moreover, adjusted earnings improved 12.8% on a year-over-year basis.
FactSet's revenues of $312.1 million also increased 8.6% from the year-ago quarter, primarily due to better-than-expected growth across products and geographic regions.
An encouraging top- and bottom-line performance, helped in boosting investors' confidence in the company's prospects.
Moreover, FactSet has a high client retention ratio which is a positive. Also, ASV increased year over year and added a favorable of clients.
The share repurchase program is expected to support earnings in the long run apart from boosting shareholder value.
The company is consistent with product innovation across its segments with special emphasis on financial services to gain customers. Moreover, the company's acquisitions of Portware, Revere Data, Matrix Data, Code Red and BISAM Technologies S.A will enhance its product suite and evolve it as a global financial database company. It will also help FactSet to maximize value for its partners and provide exclusive content set.
Furthermore, the company is one of the leading providers of online integrated data-related products and services for the investment community. According to ReportsnReports, the Global Business Information market is expected to witness a CAGR of 5.15% from 2014 to 2019. FactSet, being one of the key data providers, is expected to gain a competitive edge through its technological know-how and increasing share in new markets.
Risks Remain
However, substitute products at competitive prices from the likes of Bloomberg L.P, Dow Jones & Company Inc., MSCI Inc. MSCI and Thomson Reuters TRI, is giving tough competition to FactSet.
Additionally, we note that FactSet currently has a trailing 12 month Price/Book Value (P/B) ratio of 13.57. This level compares unfavorably with what the industry saw over the last year. The ratio is higher than the average level of 13.10. Hence, valuation looks slightly stretched from a P/B perspective.
Bottom Line
Notably,this Zacks Rank #3 (Hold) company has shown an uptrend in terms of earnings, as evident from its average positive earnings surprise of 0.86% in the trailing four quarters.
We believe that the stock still has much upside potential, which essentially filter the negatives and focus on the positives which drive price.
A stock worth considering in the technology sector is Applied Optoelectronics, Inc. AAOI, sporting a Zacks Rank #1 (Strong Buy). You can see the complete list of today's Zacks #1 Rank stocks here
Applied Optoelectronics has a long term-expected EPS growth rate of 20%
5 Trades Could Profit ""Big-League"" from Trump Policies
If the stocks above spark your interest, wait until you look into companies primed to make substantial gains from Washington's changing course.
Today Zacks reveals 5 tickers that could benefit from new trends like streamlined drug approvals, tariffs, lower taxes, higher interest rates, and spending surges in defense and infrastructure. See these buy recommendations now >>
Want the latest recommendations from Zacks Investment Research? Today, you can download 7 Best Stocks for the Next 30 Days.
Click to get this free report
FactSet Research Systems Inc. (FDS): Free Stock Analysis Report
MSCI Inc (MSCI): Free Stock Analysis Report
Thomson Reuters Corp (TRI): Free Stock Analysis Report
Applied Optoelectronics, Inc. (AAOI): Free Stock Analysis Report
To read this article on Zacks.com click here.
Zacks Investment Research