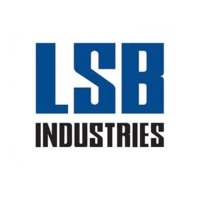 At some point early in 2014 I was invested in a company called LSB Industries (LXU) both here in CAPS and with real money.  The thesis behind the investment was that activists were trying to force this family-controlled mini-conglomerate to split its unrelated climate control and chemicals businesses into two companies and to potentially convert the chemicals unit into an MLP.  Such actions would likely be very bullish for the stock.  I loved the idea, but didn't see the activists involved getting their way so I sold out.
The main problem with LXU is as I alluded to, the company is family-controlled.  Not just family controlled, but rife with nepotism.  The company's board and management doesn't give a hoot about outside investors, all they care about is protecting their own fiefdom.
On the plus side, the activist involved here, Starboard Value, doesn't mess around.  Starboard has been very successful in the past.  Not surprisingly, Starboard was not amused when LSB Industries recently announced that after a "lengthy" strategic review by an internal committee the company will not make any of the shareholder-friendly moves that have been suggested by activists.
Oklahoma City-based LSB won't change business strategy after lengthy review of business
http://newsok.com/oklahoma-city-based-lsb-wont-change-busine...
Following that announcement, Starboard came out with both barrels blazing, announcing that it plans to nominate five new directors for LXU's board, including the activist firm's head honcho Jeffrey Smith.  These new seats would be in addition to the two that Starboard has already won, giving them seven of the LSB's ten board seats.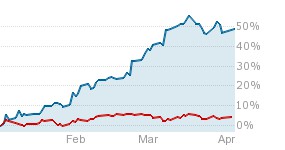 A three-month chart of LXU (blue) vs. the S&P 500 (red)
Unfortunately (for me not LXU shareholders), somehow the stock has gone up quite a bit over the past couple of months.  Since I added it here in CAPS in mid-January the stock has risen 30% without much in the way of positive news.  The move upward in the stock definitely was not thanks to its entrenched management or directors.
Take a look at the nepotism that's going on at LSB courtesy of an excerpt from an article by the always excellent Marshall Hargrave over on SA...

"But that's not all -- so you have the dad (Jack) as the chairman, his oldest son (Barry) as CEO of LSB, running the chemicals business, and his youngest son (Steven) is COO, running the climate business.

But it really is a clustered mess beyond that. The company's General Counsel is the nephew (by marriage) to the founder/Chairman, Jack. The General Counsel's wife (Jack's niece) is a VP/Managing Counsel for LSB."

Really? It's fine if you want to own a company and hire all of your friends and family to run it, even if they aren't the most qualified candidates. HOWEVER, you can't take public money and think that you're going to get away with that forever.
I almost want to buy into LXU out of principal so I can vote for Starboard's board nominees, but I am probably going to wait.  Hopefully the stock will pull back some and then I will pounce.
Activist Starboard Value Planning Another Proxy At LSB Industries
http://seekingalpha.com/article/2992446-activist-starboard-v...
I am constantly on the prowl for new and interesting special situation investment ideas.  I cast a wide net and there's very few of them that don't pop up on my radar.  I constantly post about them throughout the day.  Make sure to visit my new website:
and follow me on twitter @TMFDeej.
See you around. Jason