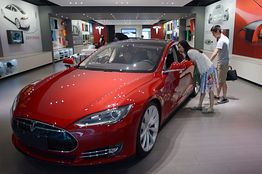 Shah test drove a Model 3, and writes that it's well designed, comfortable, and comes with plenty of cargo space, and the overall experience left him feeling "that Tesla will be selling as many cars as it can produce for a long time."
Driving the Model 3 reinforced our view that the addressable market opportunity is perhaps much larger than the BMW 3-series, Mercedes C class and Audi A4. The acceleration felt similar to a standard ICE sedan, but the instant torque when accelerating at driving speeds is unique to electric vehicles and Tesla in particular. Model 3's performance was mostly indistinguishable from our experiences with Models S & X; that's to say that driving the Model 3 was exhilarating, in our view.
Importantly, the technology integration is a clear advantage. Model 3's immersive central display experience is as close as we've seen to smartphone/automobile integration. We view this as a critical point; we think that legacy automakers have very much underperformed on keeping pace with the onboard utility of a smartphone, through a period in which the smartphone has become a critical part of day-to-day life. We expect that customers will increasingly demand a Model 3 level of onboard functionality form automakers.
Tesla is down 2.3% to $297.53 in recent trading.
More