Shares of semiconductor behemoth Intel INTC opened relatively flat on Wednesday, just one day ahead of the release of the company's pivotal third-quarter earnings report.
The semiconductor space has been on fire all year, and as the largest chipmaker in the world, Intel is always a key bellwether for the industry as a whole. However, Intel shares have gained just 12.9% year-to-date, which lags behind the industry average.
Indeed, Intel's dominance has been threatened by several high-growth competitors, including Wall Street darlings Nvidia NVDA and AMD AMD. Nevertheless, the company has met or surpassed earnings estimates in 14 consecutive quarters, and with its Zacks Rank #2 (Buy), the stock is looking strong heading into its report date.
Based on our latest consensus estimates, we expect Intel to post earnings of 80 cents per share and revenues of $15.71 billion this quarter. These results would represent year-over-year growth rates of 0.4% and -0.42%, respectively. While we are projecting relatively flat results in Q3, the company is expected to record full-year earnings growth of 10.7% and sales growth of 3.3%.
But earnings and revenue aren't the only thing investors will be interested in seeing once Intel reports on Thursday. On top of this, we'll want to note how well the company is responding to the growth of new industry trends, such as cloud computing and the Internet of Things.
Luckily, we can use our exclusive non-financial metrics estimates file to gauge the performance of Intel's key divisions. Check out three of our most important estimates: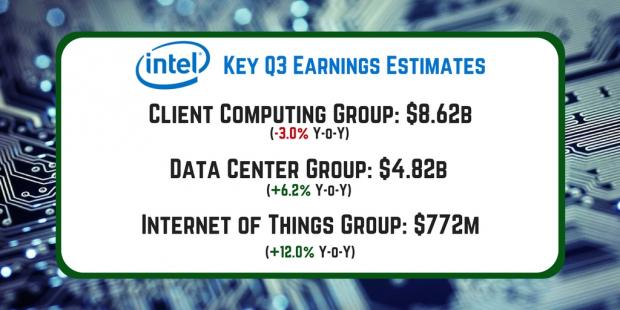 These important stock drivers are from our exclusive non-financial metrics consensus estimate file. These estimates are updated daily and are based on the independent research of expert stock analysts. Learn more here>>>
Based on our latest consensus estimates, we expect Intel's Client Computing Group to struggle a bit this quarter. While not catastrophic, a 3% slump in revenues would underscore the threat of Intel's aforementioned competition. This unit includes the company's products designed for notebooks and desktops, so it could certainly feel the effects of gaming-friendly chipmakers like Nvidia and AMD.
Nevertheless, Intel should see a nice gain in its Data Center Group. This is the company's enterprise-focused segment, and with the rise of cloud computing, we've seen increased demand for products needed in high-performance networks and data storage centers.
Based on our current consensus estimates, we expect Intel's Data Center Group to report sales of $4.82 billion, up from $4.54 billion in the year-ago period.
In a similar vein, Intel's top line should see a nice contribution from the company's Internet of Things Group. Intel designs a variety of products for use in many IoT markets, including retail, transportation, and smart cities—so it should stand to benefit as these trends continue to gain momentum.
If our latest consensus estimates hold up, Intel is expected to post revenues of $772 million from its Internet of Things Group. This would represent impressive year-over-growth of 12%.
Make sure to check back here for our full analysis once Intel releases its report tomorrow!
Want more stock market analysis from this author? Make sure to follow @
https://twitter.com/Ryan_McQueeney
on Twitter!
Zacks' Hidden Trades
While we share many recommendations and ideas with the public, certain moves are hidden from everyone but chosen members of our portfolio services. Would you like to peek behind the curtain today and view them?
Starting today, and for the next month, you can follow all Zacks' private buys and sells in real time. Our experts cover all kinds of trades: value, momentum, ETFs, stocks under $10, stocks that corporate insiders are buying up, and companies that are about to report positive earnings surprises. You can even look inside portfolios so exclusive that they are normally closed to new investors. Click here for Zacks' secret trades>>
Want the latest recommendations from Zacks Investment Research? Today, you can download 7 Best Stocks for the Next 30 Days.
Click to get this free report
Advanced Micro Devices, Inc. (AMD): Free Stock Analysis Report
Intel Corporation (INTC): Free Stock Analysis Report
NVIDIA Corporation (NVDA): Free Stock Analysis Report
To read this article on Zacks.com click here.
Zacks Investment Research