The AUD/NZD has been bullish in July, turning up from 1.0622 to about 1.1035 today. The daily chart shows that the market is in a slightly bullish channel and approaching channel resistance. With a lack of bullish trend, and the daily RSI above 70, we should look for sellers as price approaches 1.10. If there is a pullback, we should start considering a possible bullish market, and thus anticipate buyers in the 1.08-1.09 area instead of the channel support. 
The 1.08-1.09 area contains the 200-, 100-, and 50-day SMAs, and is a common support/resistance pivot area. If price comes down to this area, and the daily RSI falls back to around 40, look for buyers. 
AUD/NZD Daily Chart 7/29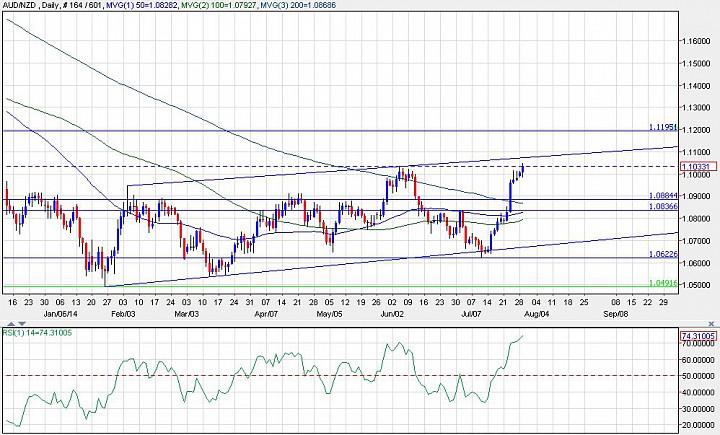 Let's take a look at a trade plan to buy at 1.0880, near the 200-day SMA. Let's say you put a stop below 1.08, at 1.0780, you would have a risk of 100 pips. The upside risk is going to be toward the 1.12 area. The weekly chart shows that this is a previous consolidation support, so we can expect some sellers there now. This offers a 320 pip reward. Even if we ease off the target slightly, this trade set up still offers around 3:1 reward to risk.
The weekly chart shows that we should limit the bullish outlook to around 1.12, especially as the weekly RSI approaches 60. If we get to say 1.1250 and the weekly RSI flattents and we get a week or two of non-bullish action, we should start looking for a bearish attempt.