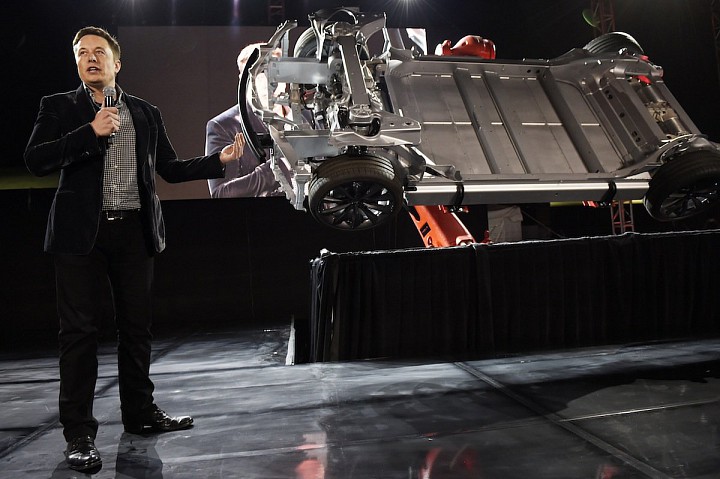 Last week Elon Musk tweeted "About time to unveil the D and something else" with a picture of a car coming out of a garage. Last night we got to see Tesla's (TSLA) new P85D. It's an all-wheel-drive version of the Model S sedan.
According to the Tesla presentation there will be three D models, the 60D, 85D, and P85D. Each will use the 188-hp front motor but the 60D and 85D will use it on the rear axle as well. In contrast, the supercar P85D will keep the Model S's existing 470-hp motor in the back and have the 188-hp in the front, making it capable of going 0-60 mph in 3.2 seconds. That's faster than a Dodge Charger Hellcat or a Porsche Panamera Turbo S. Musk said that they benchmarked the McLaren F1 for acceleration performance. On top of that, the AWD versions make it more attractive for customers who live in places with icy weather.
The "something else" was a package of driver-assist features, like autopilot. The semi-autonomous driving system reads road signs and a 360 degree sonar keeps an eye on objects around the car. If traffic slows or stops, so does the Tesla. The driver can change lanes with a flick of the turn-signal stalk. The brakes are new too. Instead of a vacuum brake booster, Tesla will use an electromechanical brake system. The feeling under the driver's foot comes from the resistance of a spring and an electric motor. This gives the autopilot system more flexibility with automatic brakes. The car can call for high-g braking in emergency or gentle slowdowns more fluidly. Musk expects to see a fully autonomous car in the next five to six years.
Since none of this is mind-blowing or unexpected, TSLA stock is down as much as 6%, trading as low as $241 a share.