The French presidential election campaign just proved that 'two wrongs do not make a right'.
French bonds tumbled relative to Bunds as Bloomberg reports, Socialist Party presidential candidate Benoit Hamon said he's holding further talks with far-left candidate Jean-Luc Melenchon about a potential single candidacy.
A merger could bring about a showdown with Marine Le Pen's anti-euro National Front, with the latest polls showing the combined vote share of the two candidates would see them qualify for the second round of voting in May.
France, Opinion Way poll:

Le Pen (FN-ENF): 26%
Macron (EM-NI) 20% ↓
Fillon (LR-EPP): 20%
Hamon (PS-S&D) 16%
Mélenchon (FG-LEFT): 13% ↑ pic.twitter.com/OMjJkhNBpL

— Europe Elects (@EuropeElects)

https://twitter.com/EuropeElects/status/832569733526466560
And Le Pen's odds are rising on the news of the potential merger...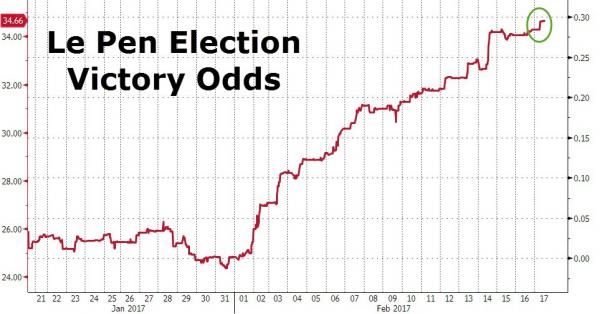 And the reaction is clear... French bond risk is resurging...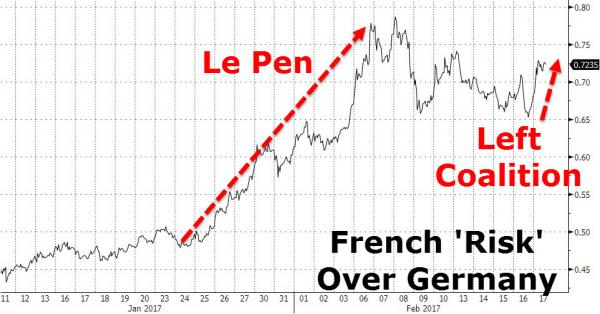 "This is clearly not a positive for French bonds," said Kim Liu, a strategist at ABN Amro Bank.
"It increases the odds of a Le Pen victory, with French bonds already being very vulnerable to political risks. It's too early to call if this is a game changer as we do not know how serious the merger talks are, but certainly this is not something the market is waiting for."