StockTwits Released Yesterday @equityclock
Insufficient seasonal adjustment factor? Retail sales continue to follow the average seasonal trend.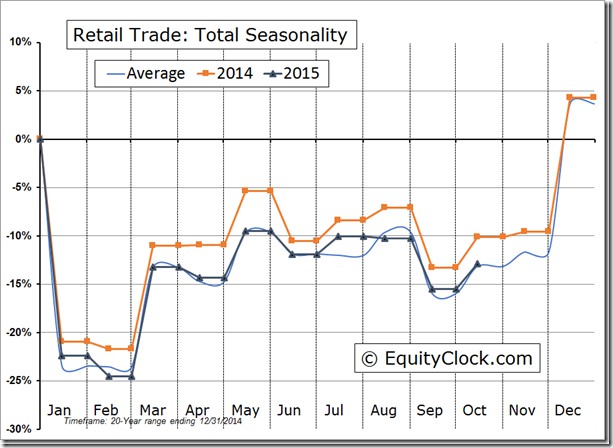 Editor's Note: Major U.S. retailers are expected to report this week. Retail stocks have been under significant pressure prior to news following negative guidance offered by "big box" retailers (e.g. Macy's). E-commerce retailers (e.g. Amazon.com) are taking market share from the big box retailers. Meanwhile, retail sales entering the Christmas buying season are following seasonal trends during the past 20 years.
Nickel prices remain under pressure. $JJN broke to an all-time low. $VALE is at a 10 year low and $S.CA is near an all-time low.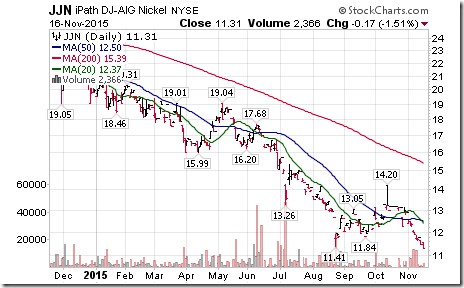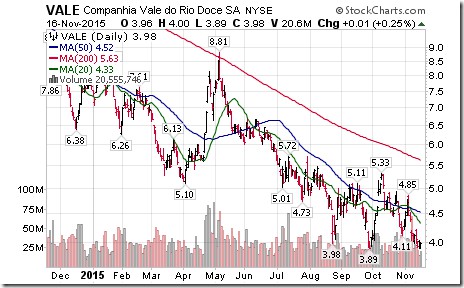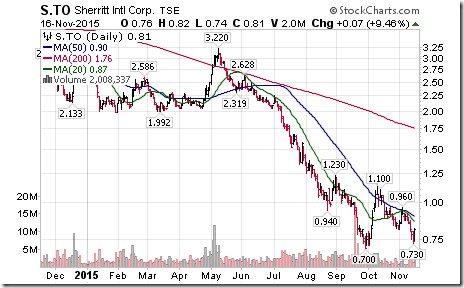 Technical Action by Individual Equities Yesterday
Strange trading day! North American equity indices moved significantly higher despite terrorist news. On the other hand, only one S&P 500 stock moved above/below indicated intermediate resistance/support levels.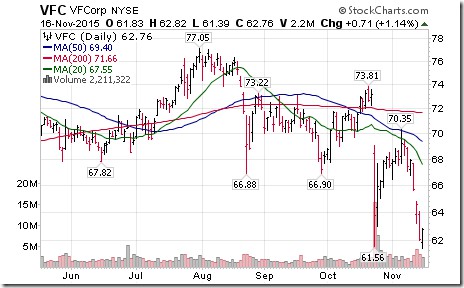 Trader's Corner
Daily Seasonal/Technical Equity Trends for November 16th 2015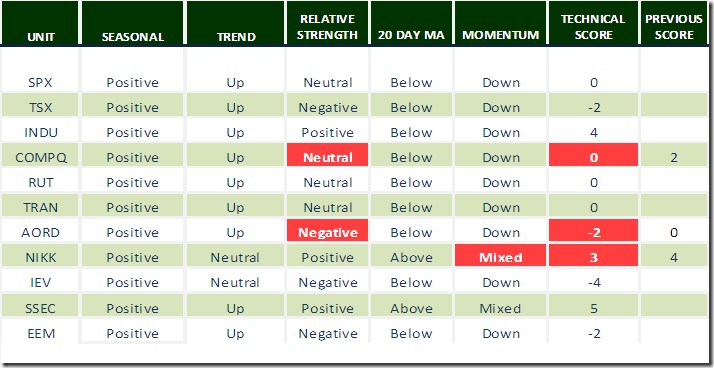 Green: Increase from previous day
Red: Decrease from previous day
Daily Seasonal/Technical Commodities Trends for November 16th 2015
Green: Increase from previous day
Red: Decrease from previous day
Daily Seasonal/Technical Sector Trends for November 13th 2015
Green: Increase from previous day
Red: Decrease from previous day
Special Free Services available through www.equityclock.com
Equityclock.com is offering free access to a data base showing seasonal studies on individual stocks and sectors. The data base holds seasonality studies on over 1000 big and moderate cap securities and indices. To login, simply go to http://www.equityclock.com/charts/
Following is an example: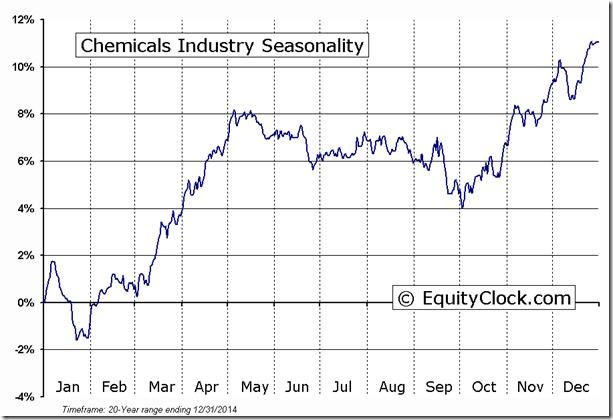 Editor's Note: Chemical stocks representing about 80% of the Materials sector are leading the Materials sector to Outperformance. Base metal stocks in the Materials sector continue to lag.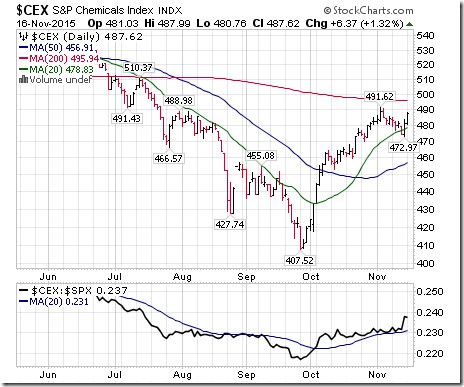 Adrienne Toghraie's "Trader's Coach" Column

Commitment to Huge Profits
By Adrienne Toghraie, Trader's Success Coach
How committed are you to making huge profits in your trading?
One of the reasons traders limit themselves to huge profits is that they are not clear about defining their level of commitment and the actions that they will take in the process of becoming a trader. Before we look at levels of commitment, let us define our terms for the purpose of this article.
Commitment – is an agreement between you and yourself in order to achieve your mission, objective, goal and the tasks that drive you towards the outcome that you intend.
Huge Profits – are how you define them based upon what you believe you are able and willing to accept for yourself.
Based upon these definitions will your present level of commitment lead you to the profits that you want and deserve? Specifically, how much is that?
If your answer is 'yes', the number is high and you are already at a high level of success based on most people's standards, then you can stop reading this article. If the answer is 'no' then read on.
First be clear about your mission, objective and goals for trading. If you do not believe that these are achievable, you will be right – if so, then scale back or give up trading. If your level of commitment is unwavering, then write down in detail all of the actions that will take you there and a time frame to accomplish these tasks.
Example:
· My Mission
Is to be a professional trader who lives a wealthy lifestyle
I define wealthy as earning five hundred thousand per year from my trading
· My Objective
Is to bring my technical skill levels and psychological skill levels to a level of mastery
· My Goal
Is to continuously be in the process of becoming the best trader I can be
· Tasks
· Gather the resources necessary to run a professional trading business
· Complete a trading business plan
· Test my theory
· Trade by my rules
· Handle any psychological issues that hold me back from my greatest outcome
· Do periodic reviews on my strategy adjusting to lessons learned and new levels of risk
The tasks I have defined are written in very broad strokes – you must define the sub-tasks and the time frame that each of these tasks will take to complete.
Revisit your plan daily until earning a profit is underway and then visit it weekly. By doing this, you will reinforce the programming you want your neurology to follow.
Being realistic
There are those who I have seen take two thousand dollars and grow it into tens of millions, and there are those who start out in the million dollar category and wind up losing a great deal of money. A good way to test the measurement of how you will succeed is to notice the commitments you have made in the past and the results you realized from those commitments. If you are not a person who has been steadfast in his commitments, start with smaller commitments in other areas of your life to build this skill.
If you put in the same amount of commitment you have done in the past to be successful in education or building a career in trading, you may be able to receive a much higher reward than you initially intended when you came up with your goals.
Free Newsletter
More Articles by Adrienne Toghraie, Trader's Success Coach
Sign Up at – www.TradingOnTarget.com
Disclaimer: Seasonality and technical ratings offered in this report by www.timingthemarket.ca and www.equityclock.com are for information only. They should not be considered as advice to purchase or to sell mentioned securities. Data offered in this report is believed to be accurate, but is not guaranteed.