As markets pause from their recent sizzling rally, Wednesday's pre-holiday trading may offer investors a chance to kick back, assess their positions, and do some longer-term planning.
All four major indices set new record highs Tuesday for the second day in a row. Quite an impressive showing. The Dow Jones Industrial Average (DJIA) topped 19,000 and the S&P 500 Index (SPX) topped 2,200 at the close. Stocks opened slightly lower.
With markets closed Thursday for Thanksgiving and a shortened trading day scheduled for Friday, a lot of people could be headed for the exits early today to get a start on their holidays. It's one of those days where we might see some volume on the open, and, barring a major news event, tepid trading from a volume standpoint the rest of the day.
What should investors do on days like these? Wednesday may be a day for investors to assess positions and trade around current positions as long as they're comfortable with the core risk.
That doesn't mean there's nothing going on in the markets. Economic reports due out include weekly initial jobless claims, Durable Orders, New Home Sales, FOMC minutes, and Michigan Sentiment data.
About those FOMC minutes, due for release this afternoon: The meeting took place before the election, when the economic outlook was somewhat different. Still, it could be worth combing through the chatter to get a sense of how the Fed saw things at that point in time and if there were any clearly contrary opinions. Chances for a December rate hike are now above 93%, according to CME futures, but the futures market still hasn't priced in much chance of another rate hike until next summer.
Deere & Company DE 11.04% was among those reporting earnings today, and the agricultural giant surpassed Wall Street's expectations. DE posted profit of 90 cents a share, well ahead of analysts' estimates of 40 cents. Revenue of $6.52 billion topped forecasts of $6.16 billion. The stock gained 10% in early trading.
Oil prices stepped back a little on Tuesday and early Wednesday, even as expectations of an OPEC production cut continued to grow. Some media reports estimate that the group could cut production by one million barrels a day. The question is, how much of an impact would a production cut have at this point, with U.S. and world stockpiles so high? Maybe not so much, some analysts have begun pointing out.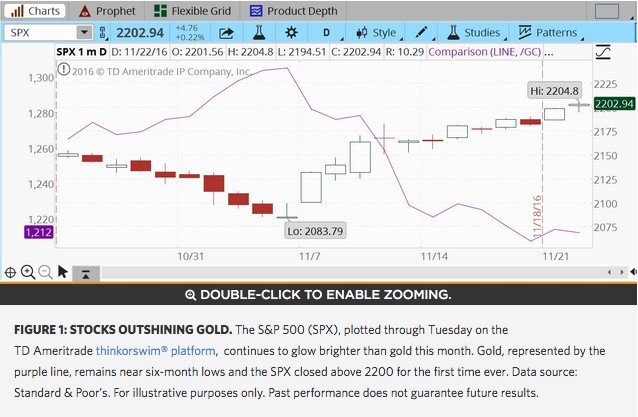 Existing Home Sales Boom; What About New? Existing home sales surged in October, increasing 2% to a seasonally adjusted annual rate of 5.6 million from an upwardly revised 5.49 million in September. Wall Street analysts had expected 5.4 million. First-time buyers represented 33% of sales, down from 34% a month earlier, but up from 31% a year ago. The report boosted shares of home improvement companies like Home Depot Inc HD 0.18% and Lowe's Companies, Inc. LOW 0.25% early Tuesday. Will these companies get another boost Wednesday from October new home sales, due at 10 a.m. ET? The pace of new home sales has steadily grown from its post-recession bottom in 2010, but remains well under the highs of a decade ago. The consensus estimate for October is a seasonally-adjusted annual rate of 587,000, down from 593,000 a month earlier, Briefing.com said.
Election Lesson for Investors: Prior to the U.S. election, fears ran high and the stock market posted nine-straight losing sessions. Many investors scrambled to "safer" havens such as bonds, cash, and sectors such as utilities and consumer staples, hoping to keep their funds shielded from potential post-election volatility. But anyone who did that may be feeling pangs of regret by now, as utilities and consumer staples are among the worst performing sectors, and bonds have tumbled. The lesson? It always makes sense to be cautious, especially ahead of a major news event like an election. But it's not usually a good idea to go "all in" or "all out," expecting the market to behave a certain way. Taking a more balanced approach, and doing so regularly, as many investors did before the election, can often be the key to successful investing.
Caution Still Appropriate Now: The same balanced approach could be equally important now, with the stock market at record highs. It's easy to get caught up in the excitement, but it's actually a better time to step back, look at the portfolio, and make sure allocations are appropriate. Markets don't move in a straight line, and rallies can get over-extended. That's not necessarily the case now, but those who don't plan for it may feel regrets of their own down the road.
The following article is from one of our external contributors. It does not represent the opinion of Benzinga and has not been edited.
© 2016 Benzinga.com. Benzinga does not provide investment advice. All rights reserved.