Pepsico (PEP) has been bullish in 2017, but has completed a price top, suggesting a period of consolidation/bearish correction.

Pepsico (PEP) Daily Chart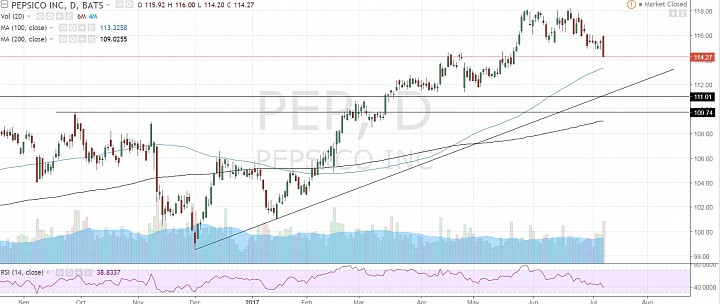 (click to enlarge)
Price Top; Consolidation Mode:
- The daily chart shows that price started to stall in June, with PEP failing to push above 118 several times.
- Then, it completed a price top, but price was hanging around just under 116.
- A push above 116 would have challenged the price top, but the market instead sold PEP during the 7/10 session.
- The sharp sell-off confirms a price top and suggests further downside at least towards the 110 area.
- Around 110, we have some important support/resistance pivots.
- I think price action will become choppy in the second half of 2017. There might not be too much downside, but there should also be limited upside.