Things were already bad enough for emerging markets going into August. Persistently low commodity prices, slumping demand from China, depressed global trade, and a "diminutive" septuagenarian waving around a loaded rate hike pistol in the Eccles Building had served to put an enormous amount of pressure on the world's emerging economies.
And then, the unthinkable happened. 
No longer able to watch from the sidelines as the export-driven economy continued to buckle from the pain of the dollar peg, China devalued the yuan. What happened next was nothing short of a bloodbath. The carnage is documented below.
First note that just moments after the PBoC's yuan move we said the following:
Biggest immediate loser from China's devaluation: Brazil

— zerohedge (@zerohedge)

https://twitter.com/zerohedge/status/630933835790819328
Well sure enough, with the exception of the kwacha, the Belarusian ruble, and the tenge (which went to a free float overnight late last month), that has proven to be demonstrably correct as you can see from the following overview of EM FX performance since China's deval:
And here's the big picture which also shows that EM FX has fallen 16 of the last 18 weeks with this week being the worst stretch since March: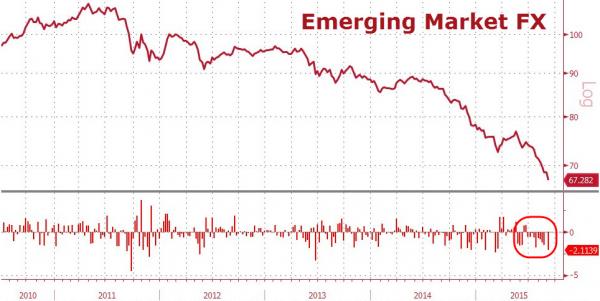 Now just imagine what this will look like if the Fed pulls the trigger...