Southern Copper: A Business Overview of a Copper Giant
How is copper doing?
Commodity prices, including copper, are having a seesaw year in 2015. Copper started the year on a weak note and fell ~15% in January alone. Spot copper prices hit a six-year low of $5,301 per ton on January 29. However, copper prices recovered nicely after that, hitting $6,448 per ton on May 12.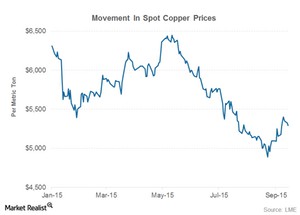 But then copper's downslide started again. Spot copper prices made a closing low of $4,888 per ton on August 24. Copper prices have recovered somewhat after hitting the sub-$5,000-per-ton level. On September 15, spot copper closed at $5,290 per metric ton on the London Metals...
More