Ecolab Inc. ECL third-quarter 2017 results, scheduled for release on Oct 31, are expected to show steady growth in Global Energy — one of the major revenue components. While this could majorly drive third-quarter earnings, an expected improvement in revenues at all other segments should help the company generate solid results this season.
It is important to note that Ecolab's last quarter earnings surpassed the Zacks Consensus Estimate. Similar to the prior quarter, strong growth in the well-stimulation business and modest gains in the downstream business are expected to be the main factors driving Global Energy revenues.
The Zacks Consensus Estimate for Global Energy stands at $798 million for the third quarter. This reflects an increase of almost 4.9% from the year-ago quarter. Apart from the Energy segment, growth across Global Industrial and Global Institutional segments, hold promise for Ecolab.
Ecolab Inc. Price and EPS Surprise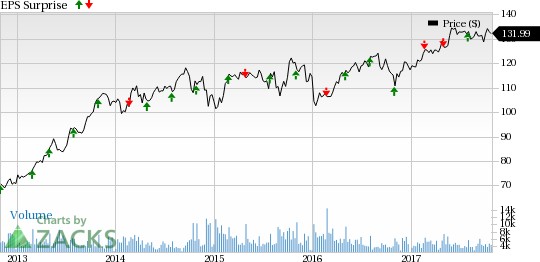 Delving deeper into the fundamentals of the stock, let's see how things are shaping up prior to this release.
Other Factors at Play
View Upbeat: For the third quarter of 2017, Ecolab projects adjusted diluted earnings per share of $1.36-$1.44, compared with $1.28 a year ago. Sales are growing sequentially on the back of pricing, new business and improvement in the energy segment. However, margins are under modest pressure owing to raw materials and hedging comparisons. As a result, management at Ecolab expects to deliver a solid 2017 with excellent momentum entering full-year 2018.
Coming to the estimate revision trend, the Zacks Consensus Estimate for revenues stands at $3.55 billion for the third quarter, depicting 7.8% growth on a year-over-year basis. The consensus estimate for third-quarter earnings stands at $1.36 per share, up 6.3% year over year.
Ecolab's earnings growth despite a challenging business environment raises investors' confidence. Additionally, the company's large base of recurring revenues, industry-leading technologies and excellent field service are significant propellers.
Global Industrial & Institutional Segment: The Zacks Consensus Estimate for global industrial unit stands at $1.25 billion for the third quarter, signifying sequential growth of 3% and year-over-year growth of 5.1%. Within the industrial segment, prospects in the Food & Beverage Processing Business (F&B) are likely to show positive results in the third quarter.
Meanwhile, the Zacks Consensus Estimate for the global institutional stands at $1.25 billion, up 7.7% year over year.
Fundamentals Strong: Ecolab is a leading provider of water, hygiene and energy technologies and services that protect people and vital resources. The company's programs and services help promote food safety, maintain clean environments, optimize water and energy use and improve operational efficiencies for customers in the food, energy, healthcare, industrial and hospitality markets in more than 170 countries.
In fact, in September, Ecolab was selected as a member of the Dow Jones Sustainability Indices ("DJSI"), the global indicator tracking the financial performance of leading sustainability-driven companies. Launched in 1999, DJSI is considered a benchmark in this area. The index is drawn up by Dow Jones in collaboration with investment management firm Strategic Asset Management ("SAM").
However, our quantitative model does not conclusively show an earnings beat for Ecolab this quarter. This is because a stock needs to have both a positive Earnings ESP and a Zacks Rank #1 (Strong Buy), 2 (Buy) or 3 (Hold) to be able to beat estimates. This is not the case here, as you will see below.
Zacks ESP: The Earnings ESP for Ecolab is -0.07%. You can uncover the best stocks to buy or sell before they're reported with our Earnings ESP Filter.
Zacks Rank: Ecolab currently carries a Zacks Rank #4 (Sell). Notably, we caution against stocks with a Zacks Rank #4 or 5 (Strong Sell) going into the earnings announcement, especially when the company is seeing negative estimate revisions.
Here are a few medical stocks worth considering as they have the right combination of elements to post an earnings beat this quarter.
INC Research Holdings, Inc. INCR has an Earnings ESP of +1.70% and a Zacks Rank #3. You can see the complete list of today's Zacks #1 Rank stocks here.
Medpace Holdings Inc. MEDP has an Earnings ESP of +0.47% and a Zacks Rank #3.
Henry Schein, Inc. HSIC has an Earnings ESP of +1.00% and a Zacks Rank #3.
Zacks' Best Private Investment Ideas
While we are happy to share many articles like this on the website, our best recommendations and most in-depth research are not available to the public.
Starting today, for the next month, you can follow all Zacks' private buys and sells in real time. Our experts cover all kinds of trades… from value to momentum . . . from stocks under $10 to ETF and option moves . . . from stocks that corporate insiders are buying up to companies that are about to report positive earnings surprises. You can even look inside exclusive portfolios that are normally closed to new investors.
Click here for Zacks' private trades >>
Want the latest recommendations from Zacks Investment Research? Today, you can download 7 Best Stocks for the Next 30 Days.
Click to get this free report
Ecolab Inc. (ECL): Free Stock Analysis Report
Henry Schein, Inc. (HSIC): Free Stock Analysis Report
INC Research Holdings, Inc. (INCR): Free Stock Analysis Report
Medpace Holdings, Inc. (MEDP): Free Stock Analysis Report
To read this article on Zacks.com click here.
Zacks Investment Research