Glass manufacturer Corning's (GLW - Get Report) dismal first-quarter earnings report on Monday raises the question of whether investors should avoid the stock or hang on to see how the company's story unfolds.
Corning reported earnings of 28 cents a share, matching estimates, but revenue fell 8.2% from the fourth quarter and 9.6% from a year earlier, as glass prices dropped to a five-year low.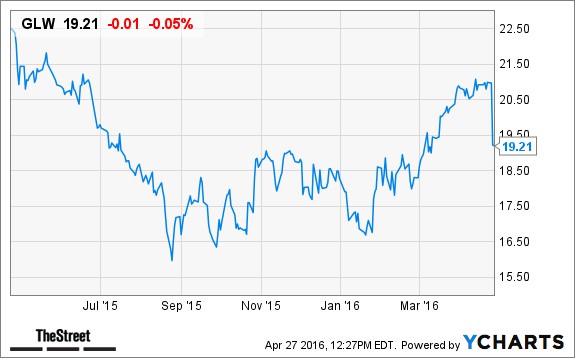 Corning, however, does have its share of advantages. For instance, the stock's dividend yield is at 2.8%, and it has delivered five years of growth, with the dividend more than doubling.
In terms of its outlook, Corning expects the rest of the year to play out significantly differently than in the first quarter, saying that "second-quarter results will reflect the strong underlying trends in our businesses."
Corning's display technologies segment should see robust growth, and the optical communications unit is also poised to take off, with the company's acquisition of Alliance Fiber Optic Products set to boost growth.
And yet, over the next five years, Corning isn't expected to offer stellar numbers. Analysts estimate 9.80% annual earnings-per-share growth, lagging behind the industry's 14%-plus rate.
With the stock up 18% in the past three months, talks of Corning having peaked are...
More