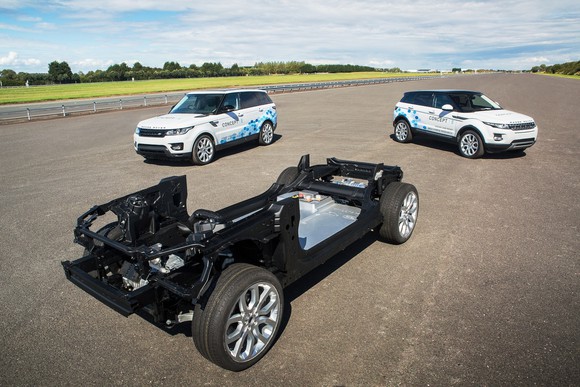 Whether you're bullish or bearish on Tesla Motors (NASDAQ:TSLA), it's increasingly obvious that the Silicon Valley start-up has made a big impression on the established automakers, particularly in the luxury segments.
Tesla has shown the world that electric cars can be luxurious, desirable, and cool. In the process, it has generated big demand -- and taken some big bites out of the the sales of more established luxury-car brands.
Slowly, the luxury-car incumbents are gearing up to fight back. Here's how Jaguar Land Rover, now owned by India's Tata Motors (NYSE:TTM), is planning to enter the new and promising market for "premium electric vehicles."
In development: 2 new battery-electric Jaguars
Jaguar Land Rover (JLR) has shown off a number of battery-electric and plug-in hybrid concepts in recent years. But the latest reports suggest that its plans have firmed up: According to Automobile Magazine, JLR is currently gearing up to produce two new battery-electric vehicles: a premium SUV and a big, opulent sedan. Both will be sold under the Jaguar brand, according to the report.
It's a serious effort. The sedan is said to be the successor to Jaguar's current top-of-the-line (gasoline-powered) XJ sedan, though the two may be...
More