Marriott's shares will reach $80 by 11.08.2015

9 october 2015
Marriott International (MAR), a global leading lodging company, recently released strong financial results for 2Q15. According to the report, quarterly revenue rose 5.9% y-o-y to USD 3.69 bn due to improved performance in all of the company's segments. Against the backdrop of growing demand, Marriott recorded a significant increase in hotel occupancy in the US and on foreign markets, as well as higher lodging cost. As a result, RevPAR (average revenue per available room) climbed 5.3%. Adjusted EBITDA was up 12.0% to USD 457 mn, while EBITDA margin increased 0.7 pp to 12.4%. Adjusted EPS reached USD 0.82 (+15.5% y-o-y), outpacing the median valuation by 1%. Marriott put into operation 101 hotels designed for 20,289 rooms in Q2. This number includes 37 hotels of the recently acquired Delta Hotels and Resorts with 9,595 rooms. As a result, the company operates 4,317 hotels (5.6% y-o-y) with more than 743,000 rooms (+6.6% y-o-y). The company generates significant cash flows, allowing it to pay generous dividends and buy back shares. Dividend amounted to USD 0.25 (+25% y-o-y) in Q2, yielding 1.3%. Marriott spent USD 714 mn for buyback in the reporting quarter. The company updated its forecast for 2015. Annual EPS is expected to rise 22-25% per year to USD 3.10-3.18 (previous forecast was USD 3.00-3.12).
We are upbeat about the future prospects of Marriott since gradual recovery of the global economy will further boost demand for hotels in the world. The company plans to open 1,500 new hotels with 250,000 rooms all over the world until to 2017.As a result, the total number of Marriott hotels should exceed 5,000. The company's management expects RevPAR to climb 4-6% per year from 2015 through 2017. Adjusted EPS will increase 19-23% to USD 4.0-4.6 in the next three years.
We left our target price of Marriott shares unchanged at USD 90 and rate the name as a Buy in the mid-term. The short-term technical target is USD 80.
<!== INSTRUMENT %% %1440% ==!>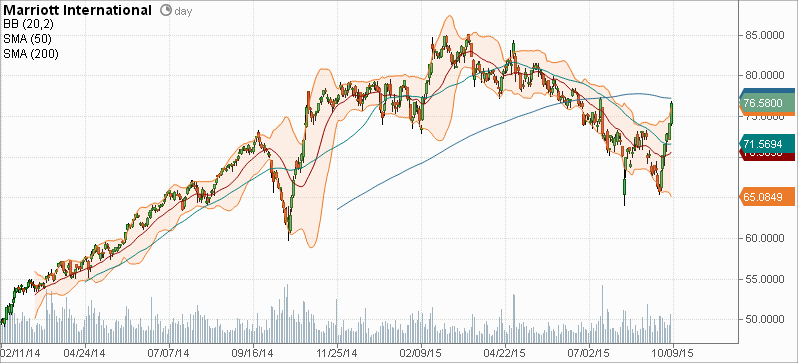 Voting is over
Waiting for


the right answer