After today's Bill auction which once again saw rising yields at multi-month highs, supposedly due to Fed rate hike concerns, many were watching today's 2 Year auction carefully to see if rising rate pressures will put a dent in short-end maturities. The answer was a resounding no, when moments ago the Treasury sold $26 billion in 2 Year paper at a yield of just 0.69% (as a reminder the Fed's leaked staff projection forecast a FF rate of 1.26% at the end of 2016 or inside the maturity of this bond), pricing 0.8bps through the 0.698% When Issued, and suggesting there may have been another short squeeze into the auction.
The auction's internals were also solid, with the Bid to Cover jumping to 3.418 from 3.276 a month ago, the highest since March, and leaving Directs 17.88%, while the real action was for the Indirects who ended up holding 54.37%, or the most since June 2009.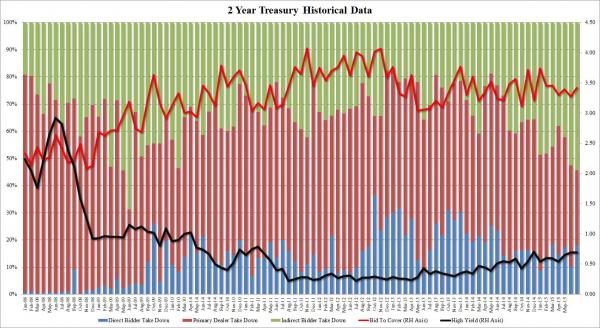 It appears those foreign central banks just can't get enough of US Treasurys, even it means a money-losing yield (assuming the Fed does in fact hike rates), as long as they can get their hands on some of that all too scarce "money equivalent" collateral.