AutoZone's shares will hit a $700 mark in medium term

27 march 2015
AutoZone, one of the US leading specialty retailers of automotive replacement parts and accessories, recently announced that its board of directors increased its share repurchase authorization by $750 mn. In fiscal 2014, the company bought back 2.23 mn shares for $1.1 bn, and additional 614,099 shares were repurchased in the first half of fiscal 2015 for $325.7 mn. Currently, AutoZone has shares worth $1.119 bn remaining for repurchase.
So, AutoZone remains focused on enhancing shareholder return, while simultaneously maintaining adequate liquidity for its business strategies. The company, I believe, has enough liquidity to repurchase shares without compromising on financial strength and, therefore, credit ratings.
AutoZone's financials in the second quarter of fiscal 2015 (ended Feb 14, 2015) were strong surpassing expectations. Revenues increased 8% year over year on the back of domestic same-store sales growth of 3.6%, while earnings per share jumped 16%. In FQ2, the company opened 37 stores in the US and 5 stores in Mexico. As of Feb 14, 2015, AutoZone had 5,042 stores in the US, 411 stores in Mexico, 5 stores in Brazil and 18 IMC branches. Thus, the total store count was 5,476 as of that date.
I believe that lower gas prices in the US will prompt people to drive more and put more stress on their cars, and this will fuel demand for parts and services from AutoZone in the coming quarters.
Shares of AutoZone, in my opinion, look attractive for medium-term investment. Target price is $700. 
<!== INSTRUMENT %% %1440% ==!>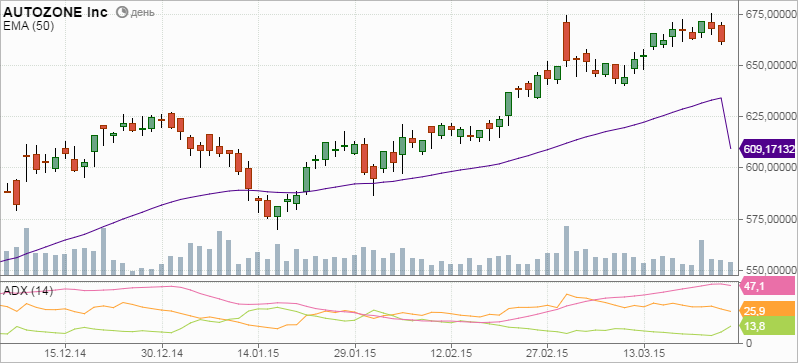 Voting is over
Waiting for


the right answer