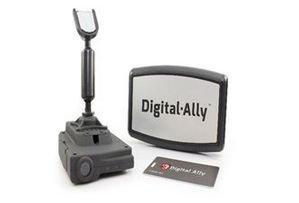 LENEXA, KS--(Marketwired - Oct 13, 2015) - Digital Ally, Inc. (NASDAQ: DGLY) ("Digital" or the "Company"), which develops, manufactures and markets advanced video surveillance products for law enforcement, homeland security and commercial applications, today announced a newly issued patent from the U.S. Patent and Trademark Office (USPTO), Patent No. 9,159,371, for the use of proximity tags, such as a radio frequency identification (RFID) tag, in law enforcement video recordings. The patent, which is officially titled "Forensic Video Recording with Presence Detection" describes features currently available in the MicroVu HD. This product is a compact in-car digital audio/video surveillance system with high definition audio and video and the new RFID instant login. The Company expects to utilize this technology going forward in future products.
The patent for utilizing RFID in law enforcement video recordings broadly covers technology that is capable of automatically storing who and what are present in law enforcement forensic video recordings using radio frequency identification technology. The presence of tracked objects -- including officers, weapons, vehicles and more -- is automatically and verifiably stored with the video footage for subsequent review or investigation of the recorded evidence. Any questions as to which officers were present in a recorded scene can quickly be answered, as each RFID card contains the name of the officer, badge number and department affiliation. Calibration or maintenance records for law enforcement can be easily linked to the tools used in the recordings. Using Digital Ally's patented technology, the video file becomes a complete evidentiary package.
"This patented technology provides enhanced protection and security measures, while maintaining the integrity of evidence to protect law enforcement personnel and the public," stated Stanton E. Ross, Chief Executive Officer of Digital Ally, Inc. "For example, a video recording of...
More